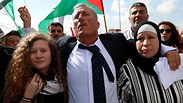 Ahed, Bassem and Nariman Tamimi
Photo: Reuters
Ahed Tamimi's father says his daughter 'made no mistake'
Hours after 17-year-old Palestinian girl is released after completing 8-month prison sentence for physically assaulting an Israeli soldier, Bassem Tamimi says she would act the same way 'if that is what is required'; meeting teen in his HQs, Abbas hails her as a 'model for emulation of the civil resistance.'
The father of the Palestinian teenager Ahed Tamimi, who was released on Sunday morning after serving an 8-month prison sentence in Israel for physically assaulting, along with her cousin, an Israeli soldier, has said that his daughter "did not make a mistake."

Tamimi, 17, became a heroine to Palestinians after the December 15 incident outside her home in the village of Nabi Saleh was streamed live on Facebook by her mother, Nariman, and went viral. She was 16 at the time.

Nariman was also arrested during the assault on the IDF officer for filming the incident and posting it on Facebook. She was released from prison the same day as her daughter.

"We are happy, we are going to the grave of Yasser Arafat to lay a wreath and perhaps we will meet President Mahmoud Abbas," said Ahed's father, Bassem Tamimi.

Asked whether his daughter would continue to stage protests against IDF soldiers and behave in a similar fashion to that which has propelled her to a celebrity status in Palestinian society and turned her into a symbol of the Palestinian cause worldwide, Bassem said if necessary.

"If that is what is required, she will do. I don't think that she made a mistake and that's why she doesn't need to change. She will continue her normal life and she will follow her beliefs," the father said.

Shortly after her release, Tamimi met with Palestinian Authority President Mahmoud Abbas in his headquarters in Ramallah.

"The President praised Ahed and described her as a model of the Palestinian struggle for freedom, independence and statehood," a statement said on the Palestinian Wafa news agency.

"He stressed that nonviolent resistance which Ahed embodies has proven to be an ideal and vital weapon in facing the repression of the Israeli occupation."

According to the statement, Abbas said: "You are a model for emulation of the civil resistance. You prove that the Palestinian people will stand firm for their rights, no matter what the price will be."

Gabi Leski, Tamimi's defense attorney, said after his client's release that it was "sad that we have had to get to a day like this in which the State of Israel arraigns minors for resisting occupation."

However, she also added that the soldier who had been assaulted by Tamimi and those in the area were deserving of praise for "acting with restraint."

"They knew that there was no pretext at all to fight with a minor when a short time before the incident her cousin was shot in the head, and that they were inside the yard of her home," Leski said.

"Unfortunately, the whole story of Ahed Tamimi's trial is a lot more political than judicial and it's a shame that politicians didn't have the wisdom and restraint that the soldiers had."

A spokesman for the right-wing Israeli Im Tirzu grassroots Zionist movement issued a statement on the trial.

"This is a family of terrorists and Ahed is one soldier in this family. One uncle murdered an Israeli who was on his way to a shop to buy eggs and milk and after murdering him he burned his body," said spokesman Alon Schwartz.

"Another aunt assisted a terrorist on the way to carry out a terror attack on the Sbarro restaurant and was happy that she murdered eight children there. And obviously, the father of the family was himself convicted for attacking soldiers."

Schwartz said that while the war on terror and wars are generally often unpleasant for civilians, it was important to remember the words of Israel's first prime minister, David Ben Gurion.

"'It's not important what the nations say, it's important what the Jews do.' The war on terror is hard, but we must deter it all the time. The Israeli deterrence, unfortunately, is not strong enough," Schwartz said.

Speaking in front of the microphones before her supporters who had turned out to welcome her, Tamimi issued a brief statement.

"I am grateful to everyone who came to welcome me today. I hope that everyone comes to the press conference at 4pm so I can talk in more detail and convey my message and that of the female prisoners who sent me messages all over the world. Thank you," she said.