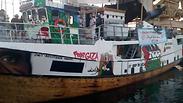 Israel intercepts ship trying to break Gaza blockade
The IDF intercepts a flotilla with 22 activists on board that was headed to Gaza with an intention to break the naval blockade on the strip; The activists, some of which are Israeli, said the vessel was hijacked; IDF 'Incident passed without exceptional events.'
Israel's military says it has intercepted a ship carrying activists en route to Gaza aiming to violate the legal naval blockade on the coastal territory.

The IDF Spokesperson's Unit said the ship had been monitored and was detained according to the international law.

"The IDF forces clarified to the activists on the ship that they are violating the legal naval blockade and that any humanitarian equipment can be transferred to Gaza through Ashdod Port," the statement read.

The incident incident passed "without exceptional events" and the ship was taken to the Port of Ashdod.

The Freedom Flotilla Coalition, an umbrella group comprising pro-Palestinian and Islamic charities from around the world, said on Twitter that Israel had "hijacked" the vessel.

It said there were 22 activists from 14 countries, mainly from Europe but also Malaysia, the US and Israel, carrying 100 boxes of medical aid for Gaza, on board of the Al Awda ship, which is only a few days ahead of another boat also making its way to the strip in an effort to break the blockade.

Israel and Egypt imposed a blockade on Gaza after the Islamic militant group Hamas took over the territory in 2007.

Israel says it is crucial to prevent Hamas, a group sworn to Israel's destruction, from arming. Critics say it is collective punishment of Gaza's 2 million people.

There have been several attempts to sail to Gaza in recent years, most notably in 2010 when nine Turkish nationals died during a violent confrontation with Israeli naval commandos.

Yoav Zitun contributed to this report.