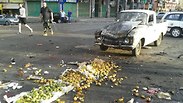 Site of suicide bombings
Photo: Reuters
The ISIS terror group kidnapped at least 36 Druze women and children during its attacks on their villages last week in Syria's southern province of Sweida, the Syrian Observatory for Human Rights said on Monday.

The observatory said some 20 women and 16 children of the Druze community were abducted.

In the terror attacks, which included a series of four suicide bombing attacks, more than 250 people were murdered.

Eyewitnesses said that one of the terrorists who committed a suicide bombing attack arrived at a market in the city riding a motorcycle at 5am when merchants begin their work.

Another terrorist was said to commit a suicide attack near a busy square, and two additional terrorists blew themselves up while being chased by security forces.

The deadliest attack occurred in the city of Sweida, a provincial capital populated by Syria's minority Druze.

"We woke up to the sounds of explosions. People were shouting to stay clear of the area. I saw a man that had caught fire, and put the blaze out myself," one of Sweida's residents told the Syrian state television.

Another resident who attempted to show resilience said, "Sweida's residents are not afraid. We are here to stay."

The city of Sweida, which is located some 100 km south of Damascus, is a city with a Druze majority which is loyal to Syrian President Bashar Assad.

On the local authorities' Facebook page, it was published that most of the fatalities in the bombing attacks had been Druze.

Assad's army held ISIS accountable for the attacks and said it had managed to eliminate two terrorist who were about to commit additional bombing attacks.

The Syrian regime's forces and local fighters have been fighting against ISIS in the Sweida province for a long period of time.

The Syrian Observatory for Human Rights said that aerial strikes were executed overnight Saturday across ISIS-held areas in the Sweida province.

On the backdrop of the attacks, an advancement of the Syrian army was noted on the ground, in particular on the outskirts of the Sweida province.

According to the Syrian monitor, last week's terror attack was the gravest ever committed by the Islamic State in the Sweida province and the most lethal Syria has known in the past few months.

The attack came after long months during which ISIS had lost most of the territories it had captured in Iraq and Syria.

The terror organization still holds several territories in southern and eastern Syria.

This series of deadly terror attacks comes after a month of military achievements by Assad's army, including the full recapturing of the Daraa province in which the Syrian civil war erupted in 2011.

In recent weeks, the internal fighting in southern Syria was also noticeable on the Israeli border.