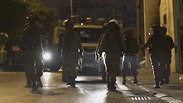 File photo
Photo: IDF Spokesperson's Unit
A female Border Police officer was lightly wounded on Tuesday morning after a Molotov Cocktail was hurled at her in the Palestinian refugee camp of Dheisheh near Bethlehem.

The officer, who sustained injuries to her hand during security operations in the area, received first aid treatment and was later evacuated to hospital.

The Border Police said that the incident took place after the outbreak of serious riots in the refugee camp during an arrest operation of a number of wanted suspects. The operation was also joined special Border Police units.

During the riots, the border officers said that rocks and Molotov Cocktails were thrown at them by the enraged Palestinian mobs, prompting them to employ riot dispersal methods.

Dheisheh is known to be among the most violent refugee camps in the West Bank.