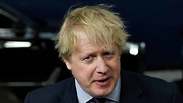 Johnson slams Corbyn over Labour's diluted anti-Semitism definition
In Daily Telegraph article, Boris Johnson accuses Jeremy Corbyn of 'dog whistling' to anti-Semites after his party omitted several points from definition of anti-Semitism; Corbyn, 'believes that it should be perfectly proper to claim that Israel is a 'racist endeavor'—that Zionism equals racism,' Johnson writes.
Former British foreign secretary Boris Johnson accused the British opposition leader Jeremy Corbyn of "dog whistling" to anti-Semites over the Labour Party's adoption of a diluted definition of anti-Semitism in an article in the Daily Telegraph on Monday.

Johnson slammed Corbyn's unwillingness to adopt the full International Holocaust Remembrance Alliance (IHRA) definition of anti-Semitism after the Labour Party omitted four of the 11-point definition.

"It seems, incredibly, that Corbyn really does dispute their examples of anti-Semitic behavior," Johnson wrote in the Telegraph. "In a nutshell, the IHRA says that it would be hurtful and anti-Semitic to claim that the State of Israel is a 'racist endeavor'; or to draw comparisons between Israeli policy and Nazi Germany. Corbyn thinks it should be acceptable to say both."

However, Johnson clarified that "We reserve the right to criticize Israeli behavior and policy, and I don't believe there is anything remotely anti-Semitic about such criticism."

"But Corbyn goes a step further," he asserted. "He believes that it should be perfectly proper to claim that Israel is a 'racist endeavor'—that Zionism equals racism—and in doing so he deliberately or unconsciously legitimates a fairly nauseating line of attack on all the millions of Jewish people who, to a greater or lesser extent, identify with Israel."

Johnson went on to claim that Corbyn "really does believe that the West is responsible for the woes of the entire Middle East. In his infantile desire to blame the West, he fails to see the true culprits of the current disorder and violence in the region," Johnson wrote.

"By his failure to adopt what should be some pretty simple and uncontentious language on anti-Semitism, he is merrily dog-whistling away to all those who want to believe that the ills of the world can be ascribed to a conspiracy of Israel/the West/the bankers," the ex-foreign secretary accused. "And the greatest tragedy of all is that he is doing nothing, to say the least, to stop the virus of anti-Semitism."

"He may be nearly 70, but he needs to grow up. Enough is enough," Johnson concluded.

Since unexpectedly becoming Labour leader in 2015 after decades spent on the left-wing fringes of the party, Corbyn has repeatedly faced accusations of turning a blind eye to anti-Semitic comments in the party and among groups he supports.

In early July, the Labour Party adopted a laxer definition of anti-Semitism, first adopted in 2016 by the IHRA and since recognized by several countries, including the UK, Germany and the EU as a whole.

The Labour version failed to include the following actions as anti-Semitic: accusing Jews of "being more loyal to Israel" than their own country, "claiming that the existence of a State of Israel is a racist endeavor," "applying double standard" on Israel "by requiring of it a behavior not expected or demanded of any other democratic nation," and comparing "contemporary Israeli policy" to that of the Nazis.

Reuters contributed to this story.