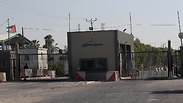 The Kerem Shalom border crossing
Photo: AP
Lieberman halts fuel shipments to Gaza citing continued fire balloon terrorism
Defense minister bars entry of fuel and gas into Gaza through the Kerem Shalom border crossing; decision made due to continued incendiary balloons and kites terrorism; crossing partially opened last week to allow food, medicine and fuel in.
Israel will stop shipments of fuel and gas to the Gaza Strip from Thursday in response to militants in the enclave launching incendiary balloons that have torched fields in Israel.
"The decision has been taken in view of the continued terror of incendiary balloons and friction along the (border) fence," a statement from Defense Minister Avigdor Lieberman's office said.
The ban begins Thursday and will remain in place until further notice.
About a month ago, Prime Minister Benjamin Netanyahu and Defense Minister Lieberman accepted the IDF chief's recommendation to close the Kerem Shalom border crossing, allowing in only humanitarian supplies, including food and medicine.

"Hamas uses the residents of Gaza and keeps launching kites and firebombs into Israel. Hamas does not allow the continuation of routine life in the area. If the incendiary balloon phenomenon persists, these steps will continue and will be intensified," the IDF said at the time.
Hamas said at the time that "closing the crossing is a crime against humanity."
Last week, after a relative drop in violence on the Gaza border, the defense minister ordered to partially reopen the crossing and allow fuel and gas in, but some restrictions remained: No other goods, including construction materials, will be allowed in, and there is also a ban on the export of goods from Gaza.
According to a statement from the defense minister's office, the decision was made in light of not only the drop in incendiary balloons being flown from the strip but also due to a drop in violent, Hamas-organized activities along the border fence.
The statement noted that the number of kites and balloons carrying firebombs into Israeli territory had been reduced but not totally eliminated.
It said the crossing could return to full activity soon "conditioned on the full cessation of fire-balloon launches and friction on the fence."
"We completed our assessment regarding the transfer of goods through Kerem Shalom," Lieberman said when the crossing was partially reopened. "The residents of Gaza must understand that as long as there are incendiary balloons and fires, things won't go back to normal for them … the key is quiet, calm, zero rockets or, god forbid, gunfire."
Four months of weekly Friday border protests that began on March 30 have calmed slightly but organizers have vowed they will continue until Israel lifts economic sanctions on the enclave.
The country has lost tracts of farmland and forests to fires set by kites and helium balloons laden with incendiary material and flown over from Gaza.