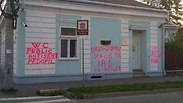 Vandalism at Elie Wiesel's house in Romania
Romania probes anti-Semitic graffiti on Elie Wiesel's house
Nobel laureate Elie Wiesel's home in the town of Sighetu Marmatiei sprayed with hateful messages, including one calling him a 'Jew Nazi' who is 'in hell with Hitler,' another dubbing the house as 'Public toilets of an anti-Semitic pedophile.'
Romanian police have launched an investigation Saturday after anti-Semitic graffiti appeared on the house of late Nobel laureate Elie Wiesel in northwest Romania.

Comments in bright pink paint were scrawled overnight Friday on Wiesel's small house—a protected historical monument used as a museum—in the town of Sighetu Marmatiei.

One of the comments called Wiesel a "Jew Nazi" who was "in hell with Hitler," another dubbed the house as "Public toilets of an anti-Semitic pedophile," and a third said Wiesel was "f***ing Merkel, Trump and Putin."

The Romanian group for Monitoring and Fighting Anti-Semitism called it an act of vandalism against the "memory of Elie Wiesel, the memory of the Holocaust victims and the souls of the Holocaust survivors."

The Elie Wiesel National Institute for the Study of the Holocaust in Romania called for a thorough inquiry. It said Romania's president and government have pledged to fight anti-Semitism and Holocaust denial in Romania, where some have denied or downplayed the country's role in the Holocaust.

Along with 14,000 Jews, Wiesel and his family were deported in May 1944 to the Nazi death camp of Auschwitz from the town, formerly called Sighet. His mother and younger sister died there while he and his two older sisters survived.

Wiesel died in 2016. His classic book "Night" drew on his experiences in the death camps of Auschwitz and Buchenwald, becoming a testament to Nazi crimes. He won the Nobel Peace Prize in 1986.

Romania deported 150,000 Jews and 25,000 Roma to Nazi concentration camps in a part of the Soviet Union that was controlled by the Axis powers from 1942 to 1944, when the country was run by pro-Nazi dictator Ion Antonescu.

Romania has about 19.5 million people now, including about 6,000 Jews.

Atilla Somfalvi contributed to this report.