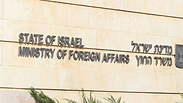 Israel's Ministry of Foreign Affairs
Photo: Gil Yohanan
40 former Israeli diplomats come out against Nationality Law
'We're proud that it was our duty to serve our country alongside Druze, Christian and Muslim ambassadors and diplomats,' former Foreign Ministry employees say. 'We're embarrassed and pained by what has happened to our good and beautiful country, and call to remedy the damages of this latest legislation.'
Forty former ambassadors and senior diplomats came out against the Nationality Law on Saturday as over 90,000 Druze and others opposing the legislation held a mass rally at Rabin Square.

"During our years of service for the State of Israel, we could always look world nations in the eye and tell them with an honest heart that Israel, being the only democracy in the Middle East, is indeed a proud Jewish state, but one run in the spirit of Israel's prophets and upholding equality between its different components, including by maintaining Arabic as an official language alongside Hebrew," the diplomats wrote in a public statement.

The diplomats include four former directors general of the Foreign Ministry—Nissim Ben Shitrit, Alon Liel, Rafi Barak and Reuven Merhav—and two deputy directors—Pinchas Avivi and Ran Curiel.

"Being proud of the right we were given to represent the State of Israel, defend it publicly, promote its interests, its security and our government's policy, and act to advance science, the economy and culture in Israel, we express our protest against the legislation that excludes the minorities among us—Arabs, Muslims, Druze, Christians, Circassians and others," they wrote.

"We're proud that it was our duty to serve our country alongside Druze, Christian and Muslim ambassadors and diplomats, and bring Israel's pluralistic and complex message to the world. We support our brothers and sisters the Israeli diplomats from these sects and share their pain," the diplomats added.

"Equality comes from our Declaration of Independence, which is the constitutive document of our independence in our land. The declaration, and none other," the diplomats wrote. "We're embarrassed today and pained by what has happened to our good and beautiful country, and call to remedy the damages of this latest legislation."

The former deputy director of North America, Baruch Bina, who also served as Israel's ambassador to Norway, said the idea for the public statement arose during a meeting of Foreign Ministry veterans in Tel Aviv, who felt that "we cannot stand idly by while our colleagues in the Foreign Ministry—Druze, Christians and Muslims—are hurt by the law."

Others who signed the public statement include former Israel Broadcasting Authority CEO Aryeh Mekel, who also served as an ambassador to Greece; former deputy director of North America and ambassador to Germany Yoram Ben-Ze'ev; former ambassador to Portugal and Italy Ehud Gol; former deputy director of administration and ambassador to Chile Yossi Regev; Ofer Bavly, who served as the consul-general in Miami; former Finland ambassador Avi Granot; former MK Colette Avital, who served as deputy director of Western Europe and consul-general in New York; former deputy director of communications and ambassadror to the Czech Republic and Geneva Yaakov Levy; former ambassador to France Daniel Shek; former deputy director of Latin America and ambassador to Argentina Dorit Shavit; former ambassador to Chile Rafael Eldad; deputy director of communications and ambassador to Denmark Arthur Avnon; and many others.