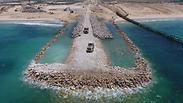 The sea barrier construction site
Photo: Defense Ministry Spokesperson
Significant progress in the barrier project against infiltrations from the Gaza Strip has been reported on Sunday. New images and videos show a new breakwater structure, with a high fence surrounding it, and an advanced detection system.
The construction is expected to be completed within a year and a half.
The Ministry of Defense revealed pictures and videos of the sea barrier construction site at the northern Gaza Strip border, near Zikim beach.
The Ministry of Defense published the material in light of the reported Gaza ceasefire talks.
As Prime Minister Benjamin Netanyahu reportedly convened his Security Cabinet to discuss an Egyptian brokered cease-fire between Israel and Hamas,.Minister of Defense Avigdor Lieberman wrote in posted a Twitter message on Sunday:
"We are continuing intensive work to build land and sea obstacles around Gaza. Hamas is losing its capability to attack Israel every day."
The obstacle consists of three components: an underwater level, topped by a layer of stone and a barbed wire fence along the crest. The entire barricade itself will be surrounded by another fortified fence.
The breakwater structure and the high fence surrounding it were constructed in the last couple of months.
The structure was added to the underground wall located dozens of meters deep along the 65 km border with Gaza.
When complete, the "impregnable breakwater" would prevent, almost entirely, infiltration attempts of terrorists into Israel through underground tunnels.
So far, about 20 km of the underground wall have been built. The work is expected to be completed within a year and a half.
While the underground wall, and its advanced detection systems, is intended to identify and destroy Palestinian tunnels penetrating Israel, the naval barrier is intended to prevent the infiltration of Hamas's naval commandos through the sea, similar to the Operation Protective Edge's incident in which five terrorists attempted to infiltrate Israel's territory by sea.
In addition to the visible sea barrier, the Israeli Navy has already deployed a sensor system that detects and warns against infiltration attempts by divers or swimmers from the Gaza Strip.
In the four years since Operation Protective Edge, Israeli naval forces have been deployed dozens of times since the army identified multiple attempts to infiltrate Israel through the Gaza border sea.
At the same time, the Israeli navy has increased its maritime penetration capabilities, advanced technological tools, and conducted large scale trainings for dozens of IDF fighters.
The sea barrier is 200 meters long, 50 meters in width, and the surrounding fortified fence is six meters wide.
Additional technological devices will be installed along the fence to locate suspected sea-level crossings.