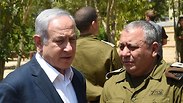 Netanyahu and Eizenkot
Photo: Haim Horenstein
Israel sees low chances for ceasfire with Hamas
Israel's Security Cabinet holds five hour discussions on ceasefire deal with Gaza, but reaches no decision; as Hamas demands release of high value prisoners for progress in prisoner exchange deal, and Abbas hardening positions on Gaza, Israel sees little chance of broad agreement.
The Security Cabinet discussed the proposed ceasefire agreement with Hamas in Gaza for five hours on Sunday.

During the meeting, IDF Chief of Staff Gadi Eisenkot briefed the ministers on the situation in the strip.

While the ministers discussed the plan, they made no decisions on the matter and were not asked to approve it.

The plan, mediated by UN Special Coordinator for the Middle East Nickolay Mladenov and Egyptian intelligence, is the first stage in the effort to reach a broader agreement between Hamas and Israel.

But there was not much optimism among the ministers. The chances of reaching a broader, long-term agreement with Hamas were very low, since there are too many obstacles on the way and it is doubtful the gaps can be bridged.

Hamas demands the release of high value prisoners in return for advancing negotiations for the release of civilians and the return of IDF soldiers' remains. Israel, meanwhile, objects to releasing high value prisoners, and conditions any broad agreement in a resolution to the issue of MIAs and POWs.

Meanwhile, Palestinian President Mahmoud Abbas is also hardening his positions. He remains intransigent to increasing the salaries of PA employees in Gaza and objects to the Egyptians' proposals, which makes it all the more difficult to resume Palestinian reconciliation.

If Abbas refuses to take civil control of the Gaza Strip, it's doubtful cash money could be brought into the strip to increase the residents' purchasing power.

Therefore, the stage that is most likely to succeed is the first one, the ceasefire: Hamas will commit to stopping the launching of incendiary balloons and kites, and Israel will agree to reopen the Kerem Shalom border crossing.

"A complete ceasefire (by the Palestinians) will lead, on Israel's part, to the reopening of the Kerem Shalom crossing and renewal of permits given in respect to the fishing zones," said an Israeli official.

He added that "there is no broad agreement on the table that does not include a solution to the issue of returning our citizens and the bodies of our soldiers being held in the strip."

Israeli officials estimate that such a ceasefire will not satisfy Hamas on the long term, and therefore the IDF prepares for the possibility of a limit round of fighting in the Gaza Strip.

"The IDF is prepared for any scenario," a statement from the Cabinet said Sunday following the meeting.