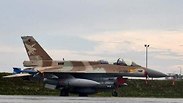 Israeli jets arriving in Croatia
Photo: Croatian Defense Ministry
Serbia angry after Israeli jets take part in Croatia victory parade
3 Israeli F-16s participate in parade marking 1995 Operation Storm, during which Croatia recaptured land seized by Serbia rebels, expelling 250,000 Serbians and killing thousands; Serbians protest to Israeli Foreign Ministry explaining 'for us it was a kind of pogrom.'
Three Israeli fighter jets participated in a military parade in Croatia on Sunday to mark 23 years to the country's victory in Operation Storm, raising the ire of neighboring country Serbia.

The 1995 Operation Storm was the last major battle of the Croatian War of Independence, during which 250,000 Serbians were expelled from the country and thousands were killed.

The Serbians viewed the participation of Israeli pilots in the parade to be insensitive, protesting to Jerusalem arguing it's "not a friendly gesture toward Serbia."

Israeli jets take part in the parade (משרד ההגנה הקרואטי)

Serbia's Ambassador to Israel, Milutin Stanojevic, told Times of Israel that his country was "deeply disappointed about the participation of Israeli pilots and fighter jets today, because for us Operation Storm in 1995 was a kind of pogrom. It was the biggest exodus of a nation since the Second World War."

The three Israeli jets arrived in Croatia on Thursday, along with a delivery of used F-16 fighter jets Israel sold Croatia for $750 million. The Defense Ministry in Zagreb even posted photos of Israeli and Croatian pilots posing in front of one of the planes.

The Israeli fighter jets then joined Croatian MiG-21 jets, flying over the city of Knin, where the annual victory parade took place.

In addition, Israeli and American representatives also attended the parade, including Brig. Gen. (res.) Mishel Ben Baruch, the head of the Israeli Defense Ministry's security exports organization SIBAT.

"For the Croatian side, maybe these are days of triumph, but for the Serbian side these are days of mourning," Stanojevic told Times of Israel. "We mourn the exodus. This is not the time or the place where another country should be involved."

Serbia's President Aleksandar Vučić has accused Croatia of intentionally expelling Serbs because of their ethnicity. "Hitler wanted a world without Jews; Croatia and its policies wanted Croatia without Serbs," Vučić said on Saturday.

The parade celebrates Croatia's recapture of territories seized by Serb rebels in response to Croatia's declaration of independence from the former Yugoslavia.

The Serbian minority in Croatia, with the backing of Serbia itself, declared independence and banished hundreds of thousands of Croatians from their homes. Over 10,000 Croatians were killed until Croatia launched Operation Storm in 1995, during which it bombed the Serbian rebels and chased them away. Croatia marks the date as the day of the country's reunification.

The defense establishment said in response: "As part of the cooperation between the Israeli Air Force and the Croatian Air Force, three F-16 Barak jets and a cargo aircraft participated (in the victory parade). This event is part of the professional cooperation between the two countries, which includes sharing of knowledge, joint exercises and reciprocal training. Israel and Serbia have a friendly and close relationship, and it considers it, like Croatia, as a true friend."