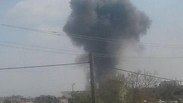 Gaza rocket hits Be'er Sheva for first time since Protective Edge
In the most significant escalation along the southern border since the 2014 summer war, Hamas launches more than 100 rockets into Israeli territory since midnight; foreign worker seriously wounded in Eshkol from mortar shell; Security Cabinet to convene in evening.
One long-range rocket fired from the Gaza Strip on Thursday afternoon hit Be'er Sheva, the largest city in southern Israel, for the first time since Operation Protective Edge four years ago. The rocket landed in an open area in the city shortly after 3pm.
More than 100 rockets have been launched by Hamas into Israeli territory since midnight Thursday in the most significant round of escalation since the 2014 summer war in Gaza.
Overall, since the beginning of the current escalation on Wednesday evening, more than 180 rockets have been launched from Gaza, as well as the cities of Sderot and Ashkelon, with Iron Dome intercepting 30 of them, the IDF reported.
Rockets in Be'er Sheva
The IDF said it will deploy more Iron Dome batteries in southern Israel following assessments that Hamas might expand the range of rocket fire.
Lt. Col. Jonathan Conricus, a military spokesman, said Israel had "ground troops that are ready to deploy. We are reinforcing the southern command and Gaza division." He wouldn't comment on Israeli media reports of troops preparing for a possible ground operation.
Prime Minister Benjamin Netanyahu held security consultations with Defense Minister Avigdor Lieberman, IDF chief Lt. Gen. Gadi Eisenkot, Shin Bet Director Nadav Argaman and head of the National Security Council Meir Ben Shabat ar the Kirya IDF headquarters in Tel Aviv.
Following the consultations, a government official said that "Hamas has suffered a serious blow. Israel will continue acting with strength."
According to the official, the prime minister and defense minister instructed the IDF to prepare for any scenario.
Israel's Channel 10 TV said Netanyahu delayed the Security Cabinet meeting that followed these consultations by two hours to allow the Egyptians to press forward with their mediation work.
After a four-hour meeting, the Cabinet issued a short statement, saying it had directed the army "to continue taking strong action against the terrorist elements." It did not elaborate.
Damage in Ashkelon following rocket fire (צילום: אוריאל גור דוד)
At least seven people were wounded as a result of the rockets. A Thai woman who works at a packaging factory was seriously wounded, shrapnel wounds to her stomach, from a mortar shell that landed in the Eshkol Regional Council.
The Barzilai Medical Center in Ashkelon reported that 23 people had been admitted to the hospital during the night, including a patient with a shrapnel wound to his hand who needed an immediate operation, four pregnant women—who were admitted for observation—two who were hospitalized with chest pains, and the rest were treated for shock.
Wounded woman arrives at hospital (צילום: אילנה קוריאל)
Mortar shells and rockets also hit the entrance of a residential home in Sderot, a house in Hof Ashkelon Regional Council and a building in an industrial zone of the Sha'ar HaNegev Regional Council.
One senior IDF source asserted that the escalating tensions that have beset the Gaza border might lead to a broader military operation in the Gaza Strip. "We are closer to a wide scale operation in Gaza than we've ever been. We will send reinforcements to the south. If it becomes necessary, the residents of the Gaza border communities will be evacuated," said the source.
Hamas responded to the IDF's claims by threatening Israel with further violence. "The increasing bombardment of Gaza and the harming of our civilians has been pre-planned … Israel will bear responsibility for the consequences and pay for its crimes … Israel will not succeed in imposing any equation on us," said a statement by the terror group.
UN Middle East envoy Nickolay Mladenov said he was "deeply alarmed by the recent escalation of violence between Gaza and Israel, and particularly by today's multiple rockets fired towards communities in southern Israel."
The United Nations, he said, has engaged with Egypt in an "unprecedented effort" to avoid serious conflict, but cautioned that "the situation can rapidly deteriorate with devastating consequences for all people".
'Government destroyed deterrence'
Be'er Sheva Mayor Ruvik Danilovich demanded the government to treat "a mortar shell fired at the Gaza border area the same as a missile fired toward Tel Aviv."
"The State of Israel cannot continue holding back; balloons, kites, mortars and missiles," he said. "We don't wish for battle, and no one wants another campaign and another war... If the State of Israel can resolve this with the Egyptians and bring back the quiet, it'd be better. But if there is no choice and this continues, with our brothers and sisters on the Gaza border staying in shelters and hearing sirens every few minutes—this is a reality we cannot accept. We demand the State of Israel to do something."
After the rocket on Be'er Sheva, the Soroka Medical Center in the city decided to move its NICU to a shelter at the hospital as a precautionary measure.
Zionist Union leader Avi Gabbay and Opposition leader MK Tzipi Livni visited Sderot on Thursday afternoon after a building in the city suffered damage from the rocket fire.
"We see a government that has the best and strongest military in the Middle East, but unfortunately has failing politicians who don't know how to negotiate, don't know how to deter," Gabbay charged.
"They created a situation in which Saleh al-Arouri, one of the ugliest and most disgusting terrorists in the Middle East, got into Gaza a week ago and put on a show for the cameras. Those who allow such things to happen show weakness against Hamas," he added.
"The Israeli government has eliminated our deterrence against Hamas. For a year it has allowed Hamas to decide when it begins the round of fighting and when it ends it. So it's no wonder two hours after al-Arouri left Gaza, they fired the rockets," Gabbay charged.
He went on to note that "those threatening to get back at Gaza are threatening themselves. We believe in properly negotiating."
"It's clear today this government cannot provide security to the residents of Israel, particularly not to the residents of the south," Livni said. "This thing of 'let the IDF win' and 'military, military, military,' doesn't work without a supplementary diplomatic effort."
"The current Israeli government prefers the State of Hamastan here near the south's residents, which is why it eliminated any possibility of dialogue with the moderate elements. This will condemn residents of the south to live alongside a place ruled by an Islamist, religious, extremist terror organization, with no hope in the long-term," Livni added.
She said while a ceasefire must be reached in the short term, a change must be created in the long-term, "something the government doesn't know how to do, but we do."
That changed, she said, is based on the moves she made during Operation Protective Edge four years ago. "I created international agreements Hamas had to accept, who in the long-term would lead to disarmament, and in the short term would prevent military buildup and allow the Gaza population a reasonable life. This was on the table, but Netanyahu stuttered," she accused.
GOC Southern Command Maj. Gen. Herzi Halevi also visited Sderot along with GOC Home Front Command Maj. Gen. Tamir Yadai.
"Over the past 24 hours, we carried out very significant attacks against the Hamas terror organization, which chose to disrupt the peace of the border residents. We're prepared for any scenario and will continue doing all it takes to maintain the residents' security. I'm confident in the steadfastness of the border residents," Maj. Gen Halevi said.
Ilana Curiel, Yoav Zitun, Elior Levy, Matan Tzuri, Rotem Elizera and Reuters contributed to this report.