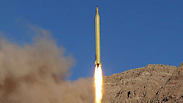 WASHINGTON - Iran test-fired a short-range anti-ship missile in the Strait of Hormuz during naval drills last week that Washington believes were aimed at sending a message as the United States reimposes sanctions on Tehran, US officials said on Friday.

The official, however, did not suggest that such a missile test was unusual during naval exercises or that it was carried out unsafely, noting it occurred in what could be described as Iranian territorial waters in the Strait.

According to Fox News, citing three American sources, this was the first ballistic missile test Tehran carried out in over a year.

The Fateh-110 Mod 3 short-range ballistic missile was fired from an Iranian Revolutionary Guards base in Bandar-e-Jask in southeastern Iran and flew over 100 miles shore-to-shore over the Strait of Hormuz, US officials told Fox News.

While the naval drills were highly publicized, in a public act of defiance against the United States, the missile test was kept secret and detected by US spy satellites, Fox News reported.

Iran's Revolutionary Guards confirmed on Sunday it had held war games in the Gulf over the past several days, saying they were aimed at "confronting possible threats" by enemies.

US Army General Joseph Votel, head of the US military's Central Command, said earlier this week the scope and scale of the exercises were similar to ones Iran had carried out in the past. But the timing of this particular set of exercises was designed to get Washington's attention.

"It's pretty clear to us that they were trying to use that exercise to send a message to us that as we approach this period of the sanctions here, that they had some capabilities," Votel told reporters at the Pentagon.

Iran has been furious over US President Donald Trump's decision to pull out of an international agreement on Iran's nuclear program and re-impose sanctions on Tehran. Senior Iranian officials have warned the country would not easily yield to a renewed US campaign to strangle Iran's vital oil exports.

Last month, Iran's Supreme Leader Ayatollah Ali Khamenei backed President Hassan Rouhani's suggestion that Iran may block Gulf oil exports if its own exports are stopped.

Votel said the US military was keenly aware of Iran's military activities.

"We are aware of what's going on, and we remain ready to protect ourselves as we pursue our objectives of freedom of navigation and the freedom of commerce in international waters," Votel said.