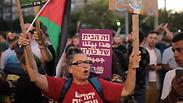 Nationality Law protest
Photo: Tal Shahar
Palestinian flags in Tel Aviv as Arab minority protests Nationality Law
Thousands rally against the Nationality Law in Tel Aviv, demanding the legislation to be repealed; Despite a ban imposed by organizers on waving flags, many people were seen carrying Israeli and Palestinian flags; 'The law tries to delegitimize the Arab sector.'
Several thousand demonstrators, Arabs and Jews, gathered at Rabin Square in Tel Aviv in order to protest the Nationality Law on Saturday evening. The protesters then marched towards the Tel Aviv Museum of Art where the main rally took place.

Among those who spoke at the event were former MK Mohammad Barakeh, Chairman of the High Follow-up Committee for Arab Affairs, Mazen Ganaim, Mayor of Sakhnin and Chairman of the National Council of Arab Community Leaders, Prof. Eva Illouz and others.

The protest organizers decided to ban the waving of flags. However, some demonstrators were seen waving Israeli and Palestinian flags.

Netanyahu posted on his Twitter page a video from the demonstration of a few protesters waving the Palestinian flag and chanting: "With spirit, with blood we shall redeem you, Palestine" and wrote: "There is no better evidence of the Nationality Law's necessity."

Nationality Law protests

Former MK Mohammad Barakeh, expressed his support for those who decided to wave the Palestinian flag.

"It is the flag that the Nationality Law tries to erase from history, but it is the flag of a proud nation," he exclaimed.

"All the Jews and all the Arabs are rushing to the square in their thousands in order to repeal this abomination of a law and remove the stain left by the Netanyahu government ... We are closer to a reality of the 1940s than ever before … How this law could have been passed when it does not account for a quarter of the country's citizens. Israel and Zionism have two options to choose from—genocide or apartheid. We are here together—Arabs and Jews—to say that we will not allow it," Barakeh continued.

"Prime Minister Netanyahu, we will not go away, you will. As for the Zionist Union, it's clear that Mrs. Livni has not really left the Likud party and that Mr. Gabbay has not really left the Likud government," he concluded.

The Mayor of Taybeh, Shua'a Mansour Masaru, spoke during the rally, labeling the Nationality Law as 'very dangerous.'

"We gathered here to protest against this racist law which states that there are two types of human beings in this country. It is not a coincidence that all minority groups—Muslims, Druze, Christians and Circassians—are here today in order to say—we do not accept discrimination. This law is very, very dangerous due to a fact that it is a basic law that can influence many other legislations," he vented.

He also warned that following the passing of the law, government institutions might stop the use of Arabic language.

"It is possible that there will be a decision to prevent the use of Arabic language in all public institution altogether. Another thing that might happen following the law is that on Independence Day minority members will be prevented from raising any other flag other than the Israeli one. This law is racist and not in line with international law," Masaru added.

Former MK Issam Makhoul emphasized the importance of the demonstration.

"This is one of the most important demonstrations, that demands an alternative to the current way of thinking in Israel—the one that is dangerous to both nations, which tries to delegitimize the Arab sector. We are part of this country's landscape. Our citizenship stems from our sense of belonging to our homeland, and we will not allow anyone to harm our status, not our national status and not our civil status."

Manar, a Nazareth resident, attended the demonstration with her husband and three children.

"From an early age, we have been educating our children about the values ​​of equality and justice, and it was important for us to be here tonight," she said.

MK Michal Rozin (Meretz) also made a speech, criticizing the government of Prime Minister Netanyahu.

"We will not comply with this 'divide and rule' policy of the Netanyahu government. Anyone who believes that the government that discriminates today against one community will not discriminate against another community tomorrow, is mistaken. I am disappointed that some political elements decided to be absent from the demonstration. One can not oppose the Nationality Law and advocate equality for all, and simultaneously refuse to express solidarity with the Israeli Arabs," she bemoaned.

Professor of sociology at the Hebrew University in Jerusalem, Eva Illouz, called on different political camps to join forces in order to promote equality.

"The political center should stand with the Israeli Arabs, who fought and continue to fight for their status in a society that does not see them, and when it does, it sees them as enemies. If there is something we need to learn from August 11, it is that equality is never provided to us on a silver platter. Today is a historic moment, Jews and Arabs declare that they will fight side by side for equality," she elaborated.

However, there are those in the Arab sector that chose not to attend Saturday's protest, following a decision to ban Palestinian flags.

Maher Masarwa, a Wadi Ara resident, claimed that prohibiting the flag is unlawful.

"I would have liked to join the protest but after hearing that Palestinian flags will not be allowed, I decided against it. There is no law in this country that bans the waving of our flags. No one should have the authority to make a decision such as this one," he raged.

The organizations and political parties that took part in the protest included the Israel Association for Ethiopian Jews, Peace Now, the Israel Religious Action Center, Standing Together, Sikkuy, The Coalition Against Racism in Israel, the Mossawa Center, Labor Party youth, Hadash, Meretz, Ta'al, the Association for Civil Rights in Israel, Zazim—Community Action, the Negev Coexistence Forum for Civil Equality, Kulan, the Socialist Struggle Movement, the New Israel Fund and Shatil.

Reuters contributed to this report.