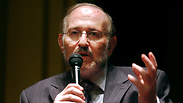 A former head of Argentina's central bank, Mario Blejer, will meet Israel's prime minister and finance minister Moshe Kahlon on Monday to discuss with him a possibility of becoming governor of the Bank of Israel, an Israeli government official said.
The present governor, Karnit Flug, has said she will not seek a second term after her five-year tenure ends in November.
The official, who spoke on condition of anonymity, confirmed Israeli media reports that Blejer was scheduled to meet Prime Minister Benjamin Netanyahu and Finance Minister Moshe Kahlon.
Spokespeople for Netanyahu and Kahlon declined to comment on a meeting with Blejer, who had also been tipped as a possibility for heading the Bank of Israel in 2013.
Israeli newspapers have reported on other names being considered for the job as well, including Zvi Eckstein, a former deputy Bank of Israel governor, Nathan Sussman, who until recently headed the central bank's research department, and banking regulator Hedva Ber.
Flug, 63, has been acting as governor since 2013, after Stanley Fischer stepped down following eight years on the job, and was his choice to fill the role.
Flug began working at the BOI in 1988. In 2001 she was appointed manager of the research department and in 2011 assumed the role of deputy governor.
Flug was appointed governor after two former candidates, Prof. Jacob Frenkel and Prof. Leo Leiderman, nominated by Netanyahu, pulled out of the race.
In an interview to Yedioth Ahronoth she said at the time: "I don't understand why the PM disqualified me. What's the reason? It's a puzzle," and added that "I think I've proven I'm fit to be governor."
Netanyahu, as said, opposed Flug's nomination in 2013, even though Stanley Fischer urged him to appoint her.