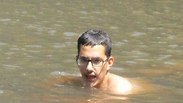 Leptospirosis infection at the Meshushim stream in the Golan Heights
Hundreds exposed to Leptospirosis in Golan Heights streams
Health Ministry says 27 have been hospitalized so far after bathing in several popular Golan Heights streams said to contain bacterial infection; Nature and Parks Authority announces some parks have been closed, while others given the all clear.
The Israeli Ministry of Health warned the public on Monday against swimming in streams in the Golan Heights after it emereged that almost 30 people caught a bacterial infection after bathing in the waters.

So far, 27 people who have visited Yehudiya, Zaki, Zavitan and Meshishim streams since July 1 have caught the infection known as Leptospirosis, with half of them still hospitalized.

Hundreds more who visited the streams are expected to be examined, the ministry said.

The Israel Nature and Parks Authority announced that the streams suspected of being infected are closed to visitors until further notice due to Ministry of Health order.

Other streams in northern Israel have been given the all clear and remain open to visitors, the Nature and Parks Authority said, adding that "the public is invited to come and enjoy parks. The parks authority will remain in contact with relevant ministries, follow their orders and monitor water quality."

As of Sunday, 8 patients had arrived at the Ziv Medical Center in Safed, another 8 at Shaare Zedek Medical Center in Jerusalem, 4 at the Poriya Baruch Padeh Medical Center in Tiberias, and one at both Rambam Medical Center in Haifa and HaEmek Medical Center in Afula.

Another four patients arrived at the Carmel Medical Center after bathing in the Golan Heights streams.

A 19-year-old man from Kfar Hasidim and a 25-year-old woman from Ramat Yishay were hospitalized after bathing in Meshushim pool.

The man was treated and discharged while the woman was still said to have been suffering from abdominal pain—one of the symptoms of the infection—and remains under supervision.

The other two at the Carmel Medical Center also said they had bathed in one of the affected streams a week ago and had begun suffering symptoms of Leptospirosis in the last few days.

Prof. Michal Hovers, who runs the infectious diseases unit in Meir Hospital in Kfar Saba, explained how Leptospirosis infects the streams and described its main symptoms.

"Animals infected the waters and streams, and people who either bathe there or come into contact with mice urine in outdoor habitats can catch this infection," she said in an interview with Ynet.

"Symptoms can be mild in some cases but in others the infection can become severe and lead to kidney and liver failure," she continued.

Prof. Hovers added that symptoms include fever, flu-like symptoms and sometimes corneal infections but emphasized that not all symptoms require admission to hospital.

"Mild cases can heal without intervention, and thus not everyone who bathed in the streams and who has a fever has to rush to the hospital," she noted.

"However, if high temperatures persist and someone doesn't feel well, it is better to go and get a blood test in order to ensure that liver and kidney functions are in order, and take antibiotics if needed," she explained.