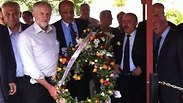 Jeremy Corbyn at wreath-laying ceremony
British opposition leader Jeremy Corbyn, who is facing allegations of turning a blind eye to anti-Semitism in his Labour Party, aroused anger after exchanging accusation with Prime Minister Benjamin Netanyahu on Twitter Monday over the situation in Gaza.
Corbyn acknowledged Monday that he was present at a wreath-laying ceremony honoring Palestinian terrorists linked to the murder of 11 Israelis at the 1972 Munich Olympics. Labour has been wrestling accusations of anti-Semitism for months, and Corbyn has previously apologized for what he has described as "pockets" of anti-Semitism in the organization.
Britain's right-leaning Daily Mail reported on Friday that Corbyn, on a visit to Tunisia in 2014, had laid a wreath at the graves of members of a Palestinian group that killed 11 Israeli athletes and a German policeman at the 1972 Munich Olympics.
It said the cemetery houses a memorial to the dozens killed in the 1985 Israeli bombing of the Palestine Liberation Organisation headquarters in exile in Tunis, as well as the graves of members of Black September, a PLO splinter group that carried out the Munich attack.
It published a photograph it said showed Corbyn standing near the graves of Black September members.
UK Labour party said Corbyn, a staunch supporter of the Palestinian cause, was in Tunis to honor the victims of the 1985 raid.
Unimpressed, Netanyahu said in a tweet: "The laying of a wreath by Jeremy Corbyn on the graves of the terrorists who perpetrated the Munich massacre and his comparison of Israel to the Nazis deserves unequivocal condemnation from everyone—left, right and everything in between."
Corbyn responded: "Netanyahu's claims about my actions and words are false. What deserves unequivocal condemnation is the killing of over 160 Palestinian protesters in Gaza by Israeli forces since March, including dozens of children."
The Labour Party said Corbyn did not lay a wreath at the graves of anyone linked to Black September, and that he condemned the Munich attack. Corbyn however told reporters on Monday: "I was present when (a wreath) was laid, I don't think I was involved in it," adding that the visit was a peace-seeking exercise.
Despite deep divisions in the UK Conservative government as it negotiates Britain's exit from the European Union, Labour's poll standing appears to have been damaged by the anti-Semitism row.
The British opposition leader also addressed the controversial Nation-State Law, which he called "discriminatory," charging that it "formalizes the second class status of Arab citizens."
Corbyn is still the subject of criticism by Jewish organizations and UK Labour party members, who say that he is allowing anti-Semitism in the party.
"Where is his apology? To be 'present' is the same as participating," said Luciana Berger, British Labour Co-operative politician and Jewish lobbyist.
Corbyn's opponents accuse him of failing to fire party members who expressed anti-Semitic views. Some of his statements in the past have sparked a storm. In 2010 he compared Israel's blockade of Gaza to the blockade imposed by Nazi Germany on Leningrad and Stalingrad in World War II.