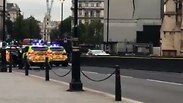 2 hurt after car hits barriers at UK parliament
Suspect in his 20s arrested on terror charges after colliding with security barriers outside London's parliament building; injuries not believed to be life-threatening; police say treating incident as terrorism incident, with its counter-terrorism unit leading investigation.
Two people were injured after a silver Ford Fiesta collided with security barriers outside London's parliament building during rush hour on Tuesday.
London's Metropolitan Police said the incident, the latest apparent attack on Britain in the last 18 months, was being treated as a terrorism incident and its Counter Terrorism Command unit was in charge of the investigation.
The driver, a man in his 20s, was arrested on terror charges. "There was nobody else in the vehicle, which remains at the scene and is being searched. No weapons have been recovered at this stage," a police statement said.
"Given that this appears to be a deliberate act, the method, and this being an iconic site, we are treating it as a terrorist incident," London Assistant Commissioner Neil Basu said.
Basu said the man was not co-operating with police. He was not believed to be known to security forces, he said.
None of the pedestrians injured is believed to be in a life-threatening condition, police added.
Several eyewitnesses said the driver's actions were deliberate.
"Someone driving towards parliament at speed, it wasn't a normal, it's not a minor like accident, it's not like a road traffic incident," witness Jason Williams told Sky News. "This is something in my opinion planned and very serious."
"I saw the cyclists, injured cyclists. I've seen people, about 10, on the road, lying down, but I haven't seen any fatalities," Williams said.
"The car drove at speed into the barriers outside the House of Lords. There was a loud bang from the collision and a bit of smoke," Ewelina Ochab told The Associated Press. "The driver did not get out. The guards started screaming to people to move away."
Television images showed police pointing their guns at a vehicle which appeared to have entered a lane used for access to the parliament building before it stopped at a security barrier.
Driver arrested
Westminster Underground station, close to parliament, was closed and the building was cordoned off. No one was being allowed entry to parliament. As parliament is in recess for summer, most lawmakers are not using the building.
British Prime Minister Theresa May, who like other lawmakers is on holiday during parliament's summer recess, said her thoughts were with the people injured in the incident.
In March 2017, Khalid Masood, 52, killed four people on nearby Westminster Bridge before he stabbed to death an unarmed police officer in the grounds of parliament. He was shot dead at the scene. It was the first of five attacks on Britain last year which police blamed on terrorism.
Britain is on its second highest threat level of "severe," meaning an attack by militants is considered highly likely.
Last week, a Muslim convert admitted plotting to kill more than 100 people by driving a truck into pedestrians on London's Oxford Street, the capital's major shopping thoroughfare.
In October last year, 11 people were injured when a car collided with pedestrians near London's Natural History Museum, raising fears of an attack, but police later said the incident was a road traffic accident.