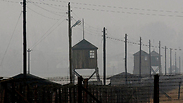 Majdanek concentration cam
Photo: AP
High school student exposes his behind in Majdanek memorial site
Local police question a high school student after he is caught on camera with his pants down at a memorial site at the former Nazi concentration camp; teenager, together with a friend who went along with the act, gets a fine and is sent home.
Two students from a high school in northern Israel were sent back to the country over the weekend due to inappropriate behavior at the Majdanek concentration camp in Poland, with one of the students exposing his behind at the memorial site.
During the high school field-trip to the memorial site, one student, out of the 150-members group, was expelled from the trip for the obscene display.
Following the incident, which was reported Monday morning on Kan, a second student returned to the country, after apparently going along with the act but not exposing himself.
Before they returned home, the two received a fine and were questioned by local policemen who watched the incident on Majdanek's security tapes.
According to a source in the education system, after the incident took place, a talk was held with the participation of all 150 members of the group, where teachers explained why the two students were sent home.
"Too bad it happened. This is a good delegation … These two are the exception, not the rule. Overall, this is an exceptional case that does not reflect the spirit of the field trip," the source said.
The Ministry of Education said in response: "The Ministry condemns any behavior that could harm the status and values of what this trip represents. Regarding this incident, in light of the students' improper and inappropriate behavior, disciplinary measures have been taken.
"The students were sent home, and the educational institution intends to exhaust all disciplinary proceedings concerning the teenagers' inappropriate act," the ministry added.