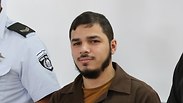 Terrorist Hamza Faiz
Photo: Amit Shabi
The IDF Military Advocate General (MAG) in the West Bank will appeal a recent court ruling and demand to harshen the conviction terms of terrorist Hamza Faiz, who stabbed Nirit Zmora at Gush Etzion junction in 2015.

Faiz attacked Zmora with a knife, stabbing and seriously wounding her at a parking lot at the Gush Etzion Junction, while shouting "Allahu Akbar."

Zamora, who had been stabbed in the back, was initially said to be moderately wounded. However, by the time she had been evacuated to the Shaare Zedek Medical Center in Jerusalem her condition deteriorated and was defined severe.

An outcry erupted as Faiz's trial commenced in the Ofer Military Court in May after the verdict acquitted the terrorist of attempted murder, and convicted him instead of aggravated battery and of the illegal possession of a knife.

Judges Lt. Col. Zvi Heilbron, Lt. Col. Eti Adar, and Maj. Haim Balilty determining it was not possible to prove Faiz had intended to murder Zmora, and argued he may have only intended to wound her.

Stabbing attack in Gush Etzion

"There was only one stab. The cases in which the court has convicted a defendant with murder or attempted murder for a sole knife stab—even if the stab caused the victim's death—are rare," the judges explained.

"The reason for that is the difficulty to determine an intention to kill when only one stab had occurred," the judges elucidated.

Last month, Faiz was sentenced to 14 years in prison. Attorney Haim Bleicher from the National Legal Defense Organization, who accompanies Zamora and her family, criticized the decision to not convict Faiz of attempted murder.

The terrorist will have to pay his victim NIS 500,000 in compensation.

"Just seeing the terrorist's smile when he heard the sentence was enough to understand the magnitude of the failure and the lack of deterrence," he exclaimed.

The West Bank's MAG sent the military court an official letter elaborating its intention to appeal the aforementioned sentence, noting it will submit its comprehensive position within a month.