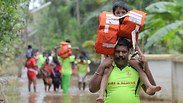 Kerala flooding
Photo: AFP
Israel has sent humanitarian aid to victims of the monsoon floods in the Indian state of Kerala. At least 350 people were killed and more than 800,000 were left homeless by the disaster.

Israeli Consul in Bangalore Dana Koresh and the consulate staff delivered the first truck of humanitarian aid Tuesday to the residents of Kerala.

Water, food and clothing were delivered in accordance with requests by local authorities.

A team led by the mayor of Cochin took part in the delivery of the aid to the emergency assistance camps set up in the region.

In addition to the aid from the Israeli government, Israeli humanitarian organization IsraAid sent an emergency team to assist and supply locals with the means to purify contaminated water as well as maintain proper hygiene.

The IsraAid team, which is comprised of members who gained experience with humanitarian work in Nepal, will also offer psychological counseling to flood victims.

According to Indian authorities, Kerala is facing the worst flooding in a century. The rainfall between August 8-15 was 250 percent higher than the average for that time of year. Authorities had to open 35 dams that were at capacity and posed a danger to residents.

Many residents turned to social media in desperation. "My family and neighbors are in serious peril due to the flooding," wrote Aju Vargaz in a post that has gone viral. "There is no water or food. No possibility to communicate in the afternoon hours, and we can't use our cell phones. Please help."

Kerala's beaches are quite popular among foreign tourists but only few visit during the monsoon season. Outside of Kerala, some 700 people were killed in floods in seven other Indian states since the beginning of the season.