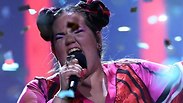 2018 Eurovision winner Netta Barzilai
Photo: AFP
Shas to Regev: No Eurovision work on Shabbat
MK Malchieli says Culture and Sports Minister is expected to prevent the preparations and rehearsals for the 2019 Eurovision Song Contest from being held on Shabbat after she supported Katz's decision to halt construction works on weekends; Regev says, 'We will have to explain the ultra-Orthodox community that they are things beyond our decision and control.'
MK Michael Malchieli (Shas) said Wednesday his party hopes that the preparations for the 2019 Eurovision Song Contest would be held without desecrating Shabbat.

Speaking to Ynet, Malchieli addressed Culture and Sports Minister Miri Regev's remarks according to which rehearsals for the Eurovision will be held on Saturdays saying, "Regev has to understand we want (the preparations for the Eurovision-ed) to take place without desecrating the Shabbat."

"We cannot let the celebrations, important as they may be to harm the Shabbat," Malchieli opined.

"We expect the Culture and Sports Minister who welcomed today Minister Katz's decision not to carry out construction works on the bridge (over the Ayalon Highway) to reach an understanding and not to cause a mass Shabbat desecration because of the Eurovision," he went on to say.

When asked about the 2019 Eurovision Song Contest to be held in Israel, Regev said, "My guess is that as soon as the contest's location will be chosen, work on Saturdays could not be avoided. We will have to explain the ultra-Orthodox community that they are things beyond our decision and control."

"The Eurovision is always held on Saturdays nights. In the past, the Eurovision was held in Jerusalem, and we will have to come to an understanding with the Haredim on this matter," Regev added.

"I don't think works will be done on Shabbat. However, there will be rehearsals. All the preparations for the Eurovision will be completed long before the event, and there will be no reason for work to take place on Saturdays."

Regev also justified Transportation Minister Yisrael Katz's decision not to carry out construction work on a new bridge over the Ayalon Highway during the weekends and said his decision is "worthy and right."

Last week it was determined the Eurovision will be held in Israel in May 2019. The Israel Public Broadcasting Corporation (IPBC) has accepted the outline proposed by the Finance Ministry.

The IPBC will take out a loan from the bank to cover the 12 million euro guarantee required by the European Broadcasting Union (EBU) without the involvement of the Treasury or the government.

The government will decide whether to cover the costs if the guarantee payment is forfeited in the case of war a higher power causing the cancellation of the event in Israel.

"The IPBC sees great importance in hosting the Eurovision in Israel, both because of the exposure it would give the State of Israel and because the competition would serve as an economic boost to Israel," the IPBC said in a statement announcing the decision.

"The IPBC believes the Israeli government will do all in its power to ensure a worthy and respectable Eurovision will be held in Israel and to fulfill the commitment of its ministers—which have been made in the media—about the funding of the competition," the statement added.