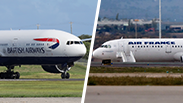 British Airways and Air France
Photo: GettyImages
British Airways, Air France to suspend flights to Iran
Britain and France's flagship carriers say flights to Tehran are not commercially viable, with British Airways stopping flights on September 23 and Air France stopping flights on September 18. They join other airlines that halted operations in the Islamic Republic amid renewed US sanctions.
Flagship carriers British Airways and Air France said Thursday they are suspending flights to Iran because they are not commercially viable in the wake of renewed US sanctions on the Islamic Republic.

The route was reinstated in the wake of a 2015 accord between western powers and Iran under which most international sanctions on Iran were lifted in return for curbs on the country's nuclear program.

Three months ago however, US President Donald Trump withdrew Washington from the deal, blasting it as flawed and reimposing sanctions to choke Iran's economy and force it to renegotiate or change direction.

British Airways, which is owned by Spanish-registered IAG , said its last outbound flight from London to Tehran will be on September 22 and the last inbound flight from Tehran will be on September 23.

"We are suspending our London to Tehran service as the operation is currently not commercially viable," the airline said in a statement.

The airline said the decision had nothing to do with the imposition of new sanctions on Iran, which has affected foreign businesses operating in the country, with many pulling out altogether.

The airline had resumed direct flights to Tehran in September 2016. Service was suspended in October 2012 as relations deteriorated between Britain and Iran.

Britain was among the world powers that struck the 2015 atomic accord. The European Union, which is working to maintain trade with Tehran, agreed 18 million euros ($20.6 million) in aid for Iran on Thursday, including for the private sector, to help offset the impact of US sanctions.

Despite this, a number of European companies have announced they are pulling out of projects or scrapping investment plans in Iran.

Iran's Ambassador to Britain Hamid Baeidinejad lamented British Airways' decision, writing on his official Twitter account that "Considering the high demand ... the decision by the airliner is regrettable."

Netanyahu welcomes airlines' decision (צילום: לע"מ)

Air France, which had run connections to the Iranian capital via its low-cost operator Joon, said it would axe the route on September 18, also blaming "poor commercial viability."

The French carrier had already cut down on its Paris to Tehran connections from three a week to just one earlier this month.

The carrier started flying to Tehran in April 2016, but saw a downturn this year despite the fact that in April it began using its new, lower cost brand Joon to make the trip, said press officer Cedric Landais.

Passengers representing the automobile, energy and nuclear sectors "weren't on our flights," he said, and tourism alone was not sufficient to keep Air France on the Paris-Tehran route, where business class tickets turn a profit.

Landais said he could not cite a reason, including US sanctions, for the downturn. "Air France isn't into politics," he said while noting there is a "geopolitical environment" at play when it comes to determining routes.

Dutch carrier KLM said last month that it was also suspending Tehran flights due to "negative results and financial outlook."

The airline said it was in discussions with partner airlines to offer customers rebooking options, or would offer full refunds.

German airline Lufthansa said it had no plans to stop flying to Tehran. "We are closely monitoring the developments ... For the time being, Lufthansa will continue to fly to Tehran as scheduled and no changes are envisaged," it said in an emailed statement.

Prime Minister Benjamin Netanyahu welcomed the decision the airlines to end their direct flights to Tehran.

"That's good. More should follow, more will follow, because Iran should not be rewarded for its aggression in the region, for its attempts to spread terrorism," Netanyahu told a news conference.

Reuters, AFP and the Associated Press contributed to this story.