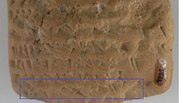 Ancient tablet
Credit: Erdon Bar Hama
An ancient clay tablet engraved with the name "Netanyahu" will be leased to the Prime Minister's Office, which belongs to the Bible Lands Museum's "al-Yahudu" artifacts collection.

The collection includes documents and artifacts from Jews who were exiled from Judea to Babylon after the destruction of the first temple in Jerusalem.

The tablet lists the names of dozens of descendents of those exiled, including someone identified as "Benayahu ben (son of) Netanyahu." The list is essentially an I.O.U. dating back to the year 511 BCE.

This past Jerusalem Day, the government held its routine meeting at the Bible Lands Museum and during the session the museum staff surprised Prime Minister Benjamin Netanyahu and presented him with the tablet collection including the one bearing his family name.

It was the first time the prime minister learned of the existence of the artifact.

Netanyahu's father, Benzion Netanyahu, Hebraized his family name from Milikovsky. He chose Netanyahu after his father, Nathan.

After learning of the ancient origin of his name, the prime minister asked the museum if his office coule borrow the tablet. It will be kept at the PMO and exhibited to visiting foreign dignitaries in order to demonstrate the continuity of the Jewish people, who were exiled from the Land of Israel and returned after 2,000 years.

The "al-Yahudu" collection, named for the town in Iraq where the articles were found, is included in the museum's "Jerusalem of Babylon" exhibit focusing on the temple destruction and the exile.

The tablets serve as exclusive testimony regarding the lives and customs practiced in Babylon (Mesopotamia) for a period lasting about a century. The collection includes commercial contracts, I.O.U's and tax receipts and it lists more than 20 towns where the exiled Jews resided.

The Babylonian exile greatly influenced the development of the Jewish people and the formation of its identity. For example, the Hebrew calendar was brought to Israel from Babylon by returning Jews at the end of the sixth century BCE, and on Netanyahu's debt certificate the date appears as the 12th of Shevat, in the tenth year of the reign of Darius, king of Persia.

"We had the honor of hosting the government meeting at the museum and presenting the prime minister with outstanding historical exhibits that focus on one of the most significant periods for the Jewish people," said Amanda Weiss, Director of the Bible Lands Museum in Jerusalem.

"The moment we presented the prime minister with the 2,600-year-old clay tablet bearing his name was very exciting and we could not think of a more appropriate place to display these rare exhibits—to make sure they are displayed to world leaders as rare historical evidence of the continuity of the Jewish people."

The museum's "al-Yahudu" collection, including the tablet, is made possible by Cindy and David Sofer.