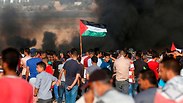 Clashes on Gaza border
Photo: AFP
The Palestinian terrorist who opened fire at IDF soldiers earlier this week and killed when they returned fire was a nurse working for Medecins Sans Frontieres (Doctors Without Borders), the IDF said on Thursday, adding it was seeking an explanation from the international aid group.

The IDF named the Palestinian as Hani Majdalawi and said he was shot dead on Monday after shooting and throwing a grenade at soldiers.

"We have reached out to Doctors without Borders for clarification regarding the matter," an IDF spokesman said.

The organization did not immediately reply to phone and email queries by Reuters. Its website says that the group runs three burns and trauma centres in Gaza, whose Islamist Hamas rulers have fought three wars against Israel in the last decade.

Gaza authorities did not confirm Majdalawi's death, saying that would require having his body, which they believed was being held by Israel. The IDF said they could not immediately confirm this.

No Palestinian terror factions claimed Majdalawi as a member.

Responding to Israeli media reports on Majdalawi's killing, his brother, Osama, described the married 28 year old on Facebook as a "martyr" who had "bought the weapon with his own money" and acted "completely independently."

The Facebook post said Hani Majdalawi had worked for Doctors Without Borders and that he had been "the most socially, psychologically and economically stable among his brothers."

Gaza has seen an almost five-month surge in confrontations along the border, where Palestinians have held weekly violent mass demonstrations.