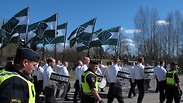 NRM march
Photo: Wikimedia
The World Jewish Congress (WJC) launched a campaign Thursday seeking to outlaw the neo-Nazi Nordic Resistance Movement (NRM), as the party gears up to run in the upcoming Swedish national elections.

The party has engaged in a series of provocative campaigns to terrorize minorities and Jews. Last year, for example, party associates held a march on Yom Kippur and clashed with police and counter-protesters.

At least 32 people were arrested in the violence, including a neo-Nazi leader.

Anti-neo-Nazi video

The previous year, during a demonstration by the movement, a photo of Tess Asplund was widely publicized around the world after she stood alone, fist raised, opposite hundreds of members of the NRM movement.

NRM was founded in 1997 by Klaus Lund, who was previously convicted of manslaughter and a bank robbery. Supporters of the umbrella movement reside in Sweden, Iceland, Norway and Denmark. Finland has banned the movement.


The NRM seeks to create a national socialist Nordic land that is independent of the European Union. Its members often compare themselves to Hitler and the Nazi party and they deny the Holocaust.

Laws on freedom of speech in Sweden enable any party to express its position, and the local police even approved a procession of supporters and activists of the movement in the capital, Stockholm.

It is not the first time that the processions has sparked criticism in Sweden and activists on social networks have already begun planning a counter demonstration.

As the country approaches its general elections which are scheduled to take place on September 9, its Congress is seeking to pass legislation against neo-Nazi parties and is calling on citizens to unite against them.

As part of the campaign, the WJC initiated an international petition to condemn neo-Nazis which will be submitted after the election of the next prime minister.

"The NRM movement is despicable and it has no place either as a protest movement, and definitely not as a political party," said Robert Singer, Chief Executive Officer of the World Jewish Congress.

"History teaches us what these phenomena lead to and why we will never stop fighting against them," he added.

The campaign will be launched in Swedish with the aim of appealing to speakers of the language around the world, and will be integrated into a series of political videos in tandem wioth activities launched by the Jewish community.

"The World Congress is investing most of its efforts in supporting the Jewish community in Sweden, and is calling on the citizens of the country and the government to outlaw neo-Nazi groups," Singer added.