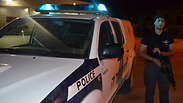 Police forces in Sajur, file photo
Photo: Almadar
Two policeman and a Sajur resident were lightly wounded overnight Thursday during violent clashes in the Druze town.

A police force operating in Sajur, who were there as part of the campaign to eradicate illegal weapons possession and the phenomenon of residents firing guns into the air, spotted a shooting from one of the houses in the Druze community during a party.

The police force was attacked by several of the community's residents following its attempt to detain a suspect for firing his weapon, according to the police.

The suspect charged at the police force waving a knife while the force was being attacked.

In addition to the injuries, damage was caused to the police force's vehicle.

Sensing danger, the force opened fire, lightly wounding one of the men involved in the assault.

The man was detained after he had been evacuated to the hospital to receive medical attention.

Six more suspects were detained by the additional police forces that were called to the scene, including the man suspected of firing a shot into the air during the party.

The police confiscated the gun from which the shot had been allegedly fired.

The detainees were brought Friday morning before Haifa's Magistrate's Court where a hearing was held into the extension of their remand.

The police issued a statement saying, "We view gravely any attempt to harm public servants in their line of duty and we will act to fully exhaust the law with those endangering public security in general and the wellbeing of those serving the public in particular."