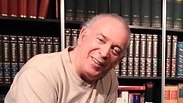 Noam Sheriff
Photo: Ido Erez
Renowned Israeli conductor, composer, dies at 83
A recipient of the Israel Prize, Noam Sheriff, who suffered a heart attack, embarked on an illustrious career that saw him serve in the IDF Orchestra, study in Berlin and Salzburg, teach in the Buchmann-Mehta School of Music and lead Israel's most prestigious orchestras.
Israel Prize laureate and renowened Israeli conductor and composer Noam Sheriff passed away on Saturday at the age of 83 after suffering a heart attack.

Sheriff, who passed away at the Laniado Hospital in Netanya, was considered to be one of Israel's most influential and prominent conductors and composers.

Born in 1935 in Ramat Gan to a father who was a construction worker and a mother who was a housewife, Sheriff eventually began an illustrious career which saw him lead The Israel Symphony Orchestra Rishon LeZion, direct the Israel Chamber Orchestra and serve as the head of the Haifa Symphony Orchestra for eight years.

In addition, Sheriff made his mark in the academic world of music, teaching composition and conducting at the Buchmann-Mehta School of Music—an institution which he directed between the years of 1998 and 2000.

In 2011 he became a recipient of the Israel Prize for musicology.

Sheriff's passion for music was first revealed when he began playing the piano at 10 years old. He went on to study with conductor Ze'ev Friel and served in the IDF Orchestra.

After concluding his military service, Sheriff studied philosophy and literature at Hebrew University in Jerusalem and continued his music studies in Berlin and Salzburg.

The Israel Prize laureate's sister is the late poet Batsheva Sheriff.

Culture and Sports Minister Miri Regev eulogized the late composer, "one of our greatest composers."

"I was saddened to be informed of the passing of Noam Sheriff, a veteran of the IDF Orchestra, a conductor and composer, a recipient of the Israel Prize and of many other prizes," Regev said.

"Noam Sheriff, may his memory be blessed, was one of our greatest composers, who produced masterpieces and worked extensively in the bridging different kinds of music …. His musical signature will remain with us forever," she added.