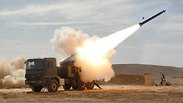 Predator Hawk missile
Photo: IMI Systems
Defense Ministry to buy advanced precision rockets from IMI
Deal worth hundreds of millions of shekels meant to equip the IDF's ground forces with rockets and missiles allowing for accurate strikes on remote targets; these additional missile and rocket systems will provide backup to the IAF's precise offensive capabilities.
The Defense Ministry announced Monday it has signed a deal worth hundreds of millions shekels with IMI Systems for the development and acquisition of advanced precision rockets.
The Defense Ministry will acquire precision rockets of several different types—some classified—which will have a range of 40-150 km. The rockets will employ advanced technologies to adapt them to the modern battlefield.
Among the rockets system the Defense Ministry is buying from IMI is an improved version of the ACCULAR artillery rocket system, which has already been in use in the Artillery Corps in recent years.
The ACCULAR artillery rocket system, which was developed by IMI Systems, was recently declared operational in the Artillery Corps. The system can launch 18 precision rockets into enemy territory in one minute. It is an effective system, easy to operate, accessible and cheap, and has been put at the disposal of brigade and battalion commanders. It can be used to target individuals, structures and infrastructure, and can hit several targets at the same time.
In contrast to the rockets launched from Gaza and Lebanon by Hamas and Hezbollah respectively, IMI's rockets are able to navigate their way to the targets effectively, while constantly identifying their location through a GPS navigation system. When the rocket detects a deviation from the planned route, it self-corrects.
"This precision fire capability significantly improves the IDF's capabilities and allows for accurate hits in remote launches, at immediate availability, and at a lower cost compared to other combat systems," the defense ministry said.
IDF tests ACCULAR system (באדיבות דובר צה"ל)
IMI is also developing rockets with 300-kilometer range. These rockets could cover large areas of Lebanon in case Israel launches these rockets from within its territory.
The rockets' advanced technology was one of the reasons Elbit Systems purchased IMI's rocket technology system for NIS 1.8 billion.
The contract with the Ministry of Defense, which was led by the Administration for the Development of Weapons and Technological Infrastructure (Maf'at), also includes further development of the rockets, in accordance with the needs of the Artillery Corps. The Navy is also considering the possibility of equipping the new Sa'ar 6-class corvette warships with a maritime version of these rockets, which will enable them to attack land targets from a great distance.
The acquisition of the advanced rockets is part of Defense Minister Avigdor Lieberman's decision to equip the IDF with precision rockets and missiles for a variety of ranges.
"The plan to establish the accurate rockets and missile apparatus has already been put into motion. Parts of it are in manufacturing stages, while other parts are in the final stages of research and development," Lieberman said. "We are purchasing and developing high-precision systems that would enable us to focus and intensify the IDF's offensive capabilities, and within a few years cover every spot in the region, both short- and long-distance."
According to Ynet's military correspondent Ron Ben-Yishai, the defense minister is not planning a separate missile corps, but rather seeking to arm the IDF with additional rockets and missiles to serve as backup for the Air Force's accurate offensive capabilities in case Israel comes under attack on many fronts at the same time—spreading the IAF too thin—or if its enemies succeed in paralyzing IAF air bases—either partially or fully.
Furthermore, fighter jets have shortcomings the precision-rocket systems do not. The jets are subject to the threat of anti-aircraft missiles, which endanger their crew members and could result in the destruction of a plane worth tens of millions of dollars. It could also take fighter jets time to reach their target.
IMI Systems chairman Yitzhak Aharonovich noted that "the innovative rocket systems the IDF will acquire in this deal demonstrate the technological capabilities of the company, which specializes in precision fire capabilities for a pinpoint hit of a variety of ground targets."
Iran is also investing considerable efforts in equipping Hezbollah with rockets with similar capabilities through its "precision project," whose Syrian sites Israel has targeted in recent years, according to foreign reports.
Udi Etsion and Telem Yahav contributed to this story.