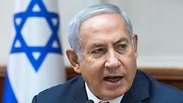 Prime Minister Netanyahu
Photo: Reuters
The IDF will "continue working with complete determination against Iran's attempts to transfer military forces and weapons systems to Syria," a senior Israeli official said Tuesday in response to the military cooperation agreement signed between Tehran and Damascus.

"The prime minister has set the struggle against Iran's military entrenchment as a central goal, just as he did with the cancelation of the Iranian nuclear deal, which he achieved despite the fact it seemed impossible then," the official said.

Israel's fight against Iranian presence in Syria is done "both on the diplomatic level and on the military level," the senior official said.

Prime Minister Benjamin Netanyahu "will continue putting additional pressure on the Iranian regime, pressure that is already bearing fruit—the president of Iran has admitted that many among the people have lost faith in the future of the Islamic Republic and its power under the shadow of the sanctions."

But despite Israeli and US pressure, Tehran's military attache to Damascus, Abolqassem Alinejad, said Tuesday that Iran will maintain its military presence in Syria.

Iranian Defense Minister Amir Hatami visited Damascus on Saturday for talks with Syrian President Bashar Assad and senior military officials. He signed a deal for military cooperation in a meeting with his Syrian counterpart, but details of the accord were not revealed.

"The continued presence of Iranian (military) advisers in Syria was part of this military cooperation agreement between Tehran and Damascus," the state news agency IRNA quoted Alinejad as saying.

The accord also emphasized the importance of Syria's territorial integrity and sovereignty, he said, adding that it came into effect on the day of its signing.

"Iran will help Syria in clearing minefields in different parts of the country... Iran will help Syria to rebuild the military factories that were damaged in the war," Alinejad said.

Iran's Revolutionary Guards have sent weapons and thousands of soldiers to Syria to help shore up Assad during the seven-year-long civil war there.

Lebanese newspaper Al-Akhbar, which is affiliated with Hezbollah, reported on Tuesday that the US is negotiating with Syria on the withdrawal of American forces from the country on condition that Iranian forces fully withdraw from southern Syria.

The report has not been confirmed by other sources yet.

Public Security Minister Gilad Erdan told Ynet that "The US also understands the immense damage caused by the Iranian presence in the Middle East, but (removing Iran from Syria) is primarily a direct Israeli interest."

Erdan dubbed the agreement between Iran and Syria a "shady plan meant to establish Iranian forces."

"This campaign is long term and will not be decided in the coming weeks or months. This is a campaign that entails the collection of intelligence and very specific decisions. There are regional interests involved," he went on to say.

Erdan stressed Israel would not accept Iranian presence in Syria and said the IDF would "demonstrate to (Syrian President Assad) the price he would have to pay if he allows (the Iranians) to remain in Syria."

The public security minister explained that while Assad was fighting for survival, he could let the Iranians into his country because he "didn't have much to lose." But once he resumed control of most of Syria, "leaving an Iranian force there would lead to Israel having to confront it in Assad's territory. If he doesn't understand that, he will once he sees kinetic strike in Syria," he elaborated.

Reuters, Attila Somfalvi and Alexandra Lukash contributed to this report.