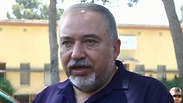 Defense Minister Avigdor Lieberman
Photo: Roee Idan
Defense Minister Avigdor Lieberman said Thursday that he has made the decision regarding the appointment of the next IDF chief of staff to replace Lt. Gen. Gadi Eisenkot, who is scheduled to conclude his tenure by the end of the year.
"One of my responsibilities is to ensure trust within the military brass. I find that Eisenkot is a true partner," Lieberman stated in an interview with Yedioth Ahronoth.
The defense minister said that despite the fact he and Eisenkot sometimes have small disagreements, everything is being discussed in a mature manner, and "without unnecessary insults."
The four candidates who were considered to replace Eisenkot are Major-General Aviv Kochavi, Major-General Yair Golan, Major-General Nitzan Alon and Major-General Eyal Zamir.
"I've already decided who I'm recommending to the next chief of staff's position, and the next deputy chief of staff's position," Lieberman announced.
When asked if the aforementioned major-generals have been notified about his decision, Lieberman said they are yet to receive the message.
In the wake of the new appointment, Lieberman consulted with a series of senior officials in the security brass.
"Each candidate has his stronger and weaker parts. I was looking for someone I can talk with in terms of winning and decisiveness," Lieberman explained.
"In discussions with military men, I hear too many expressions such as, 'political arena', and 'legal meaning.' The most important thing for me is winning, without providing explanations," Lieberman asserted.
The next chief of staff will be required to promote Lieberman's plans to upgrade the IDF's technology, with establishing a surface-to-surface missiles program being his top priority.
"We are not talking about a new defense strategy, but rather a new offense and deterrence strategy," Lieberman elucidated.
Bolstering the ground forces is also on the defense minister's to-do-list.
"The ground forces' commander should be ranked third in the IDF's hierarchy. During appointment rounds, everyone wants to be the next Military Intelligence head and GOC commander. Nobody wants to be GOC Army Headquarters. It's amazing," Lieberman added.
Meanwhile, Lieberman is facing more urgent problems as the situation in Gaza worsens.
Lieberman, who once declared that if he becomes defense minister he would order the assassination of Hamas leader Ismail Haniyeh within 48 hours, now says that different options are on the table.
"There are two options: The IDF can overthrow Hamas in Gaza, which means paying the price of taking control over the strip, or it can lead Gaza's residents to overthrow Hamas themselves," he said.
"The second option guarantees much more stability," Lieberman concluded.