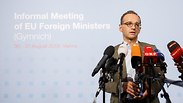 German Foreign Minister Heiko Maas
Photo: EPA
Germany to boost funds for Palestinians after US cut
Foreign Minister Heiko Maas says US slashing of financial aid to UNRWA, which may result in the organization's disappearance, 'could unleash an uncontrollable chain reaction'; pledging to provide more money to help make up $217M deficit, Maas calls on other European states to follow suit.
The German government has pledged to significantly increase its funding for the UN agency that supports Palestinian refugees after the United States cut its aid.

German Foreign Minister Heiko Maas said the funding crisis for the United Nations Relief and Works Agency (UNWRA) was fueling uncertainty.

"The loss of this organization could unleash an uncontrollable chain reaction," he said.

Germany had already provided 81 million euros ($94 million) in aid for UNWRA this year, he said, and was preparing to increase its contribution. He gave no figure.


"We are currently preparing to provide an additional amount of significant funds," Maas said in a letter to European Union foreign ministers that was seen by Reuters.

Maas said it was clear that the added German funds would not cover a $217 million deficit left by the US withdrawal, and urged the European Union and other states to work towards "a sustainable finance basis for the organization".

It is part of a broader push by Maas to take a more assertive stance in disagreements with the United States on a range of issues including trade, military spending and climate change.

Jordan said on Thursday it would lead a campaign to raise funds to help the UN agency survive, including an appeal to the Arab League.

UNRWA has faced a cash crisis since the United States, long its biggest donor, earlier this year slashed funding, saying the agency needed to make unspecified reforms and calling on the Palestinians to renew peace talks with Israel.

In January, the United States said it would give UNRWA $60 million in aid but would withhold a further $65 million "for future consideration."

Last week, the State Department announced that it had decided to cut more than $200 million in bilateral aid to the Palestinians, following a review of the funding for projects in the West Bank and Gaza.

Then, in what threatened to be a possible coup de grace against UNRWA, the Washington Post reported Friday that President Donald Trump is gearing up to announce in the coming weeks that his administration will be ending all US funding to to the organization.

The agency was founded in 1949 after the first Arab-Israel war—the War of Independence—in the wake of the exodus of around 700,000 refugees who fled or were driven out of Israel on its founding as a state.

As a result, UNRWA now looks after more than 5 million descendants of those original refugees, in Jordan, Lebanon, Syria and the Palestinian territories of the West Bank and Gaza Strip.

UNRWA now looks after more than 5 million people in Jordan, Lebanon, Syria and the Palestinian territories of the West Bank and Gaza Strip.

The nascent state of Israel absorbed Jewish refugees who were expelled or who fled from neighboring Arab countries, while other Arab states refused to grant the Palestinians citizenship.

Israel argues that UNRWA perpetuates the Palestinian refugee problem by grossly inflating the number of bonafide refugees.

Since the agency includes descendants of Palestinian refugees from the War of Independence, it grants refugee status to Palestinians according to a criteria that is not adhered to in any other refugee question.

UNRWA has become the subject of significant scrutiny since President Trump entered the White House.

After appointing his son-in-law Jared Kushner as a Mideast advisor charged with formulating a long-awaited peace initiative to put an end to the decades-long Palestinian-Israeli conflict, the UN refugee organization appeared to occupy a significant spot on his radar.

In an internal email recently published by Foreign Policy magazine, Kushner called for a "sincere effort to disrupt UNRWA."

"This (agency) perpetuates a status quo, is corrupt, inefficient and doesn't help peace," he reportedly wrote in an email dated January 11.

Last week, US Ambassador to the United Nations Nikki Haley appeared to question the world body's count of Palestinian refugees.

By casting doubt on what some describe as an inflated number of Palestinian refugees, the US is removing a central stumbling block that has frustrated peace negotiations in the past, which calls for the so-called "right of return" of the millions of Palestinians defined as refugees by the UN.

Palestinians have clung to the notion that the refugees and their descendants should be allowed to settle in Israel as part of any peace deal, a precondition Israel says is designed to destroy its Jewish majority and therefore eradicate the Jewish state.

For Nikki Haley, however, the decision to withhold funds to the organization also stems from the Palestinians' "bashing" of the US, despite the fact that it has for years been the chief financial donor to UNRWA.

"First of all, you're looking at the fact that, yes, there's an endless number of refugees that continue to get assistance, but more importantly, the Palestinians continue to bash America," she said during a conference at the Washington-based Foundation for Defense of Democracies.

Moreover, Haley has also expounded the administration's view that other Arab countries should be be taking greater responsibility to assist the organization rather than leaving it to the US to pay the lion's share of financial aid, which amounts to one third of the total budget.

"Where is Saudi Arabia? Where is the United Arab Emirates? Where is Kuwait? Do they not care enough about Palestinians to go and give money to make sure these kids are taken care of?" Haley asked.

Some in Israel have even tougher criticism for the organization, accusing UNRWA of teaching hatred of Israel in its classrooms and tolerating or assisting Hamas terrorists in Gaza.

In July last year, the agency said it was investigating after finding 20 rockets hidden in one of its vacant schools in the Gaza Strip.