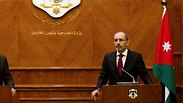 Jordanian Foreign Minister Ayman Safadi
Photo: Reuters
Jordan to lead fundraising for UN Palestinian agency after US cuts
Speaking in joint press conference in Amman with UNRWA head Pierre Krahenbuhl, Foreign Minister Ayman Safadi says meeting next month on sidelines of UNGA in New York will be used to mobilize support after US slashes funds; 'Any shortage in funding will drive hundreds of thousands towards deprivation and despair,' he says.
Jordan said on Thursday it would lead a campaign to raise funds for the UN agency that supports Palestinian refugees, to help it survive after the United States cut its funding.

Foreign Minister Ayman Safadi said a meeting next month in New York on the sidelines of the UN General Assembly would mobilize support for the United Nations Relief and Works Agency (UNRWA) to continue core education and health services.

"Any shortage in funding will drive hundreds of thousands towards deprivation and despair," Safadi, whose country has 2.2 million UN registered Palestinian refugees, said in Amman after meeting Pierre Krahenbuhl, the UNRWA head.


Jordan will call for an Arab League meeting to lobby for donors to cover the $200 million shortfall needed to shore up UNRWA, Safadi said.

UNRWA has faced a cash crisis since the United States, long its biggest donor, earlier this year slashed funding, saying the agency needed to make unspecified reforms and calling on the Palestinians to renew peace talks with Israel.

The agency was founded in 1949 after the first Arab-Israel war—the War of Independence—in the wake of the exodus of around 700,000 refugees who fled or were driven out of Israel on its founding as a state.

UNRWA now looks after more than 5 million descendants of those original refugees, in Jordan, Lebanon, Syria and the Palestinian territories of the West Bank and Gaza Strip.

Although Krahenbuhl has made up some of the deficit by raising money from other countries, the agency still lacks over $200 million. It recently laid off over 100 people in the Gaza Strip and cut back the hours of 500 other employees.

"One cannot wish 5.3 million Palestine refugees away. These are people who have rights and for many years now, for decades have faced a plight and injustice that is simply immense," UNRWA's Krahenbuhl said at a news conference with Safadi, echoing comments he made earlier this week.

"As long as a just a lasting solution has not found of the issue of Israel-Palestine conflict we will continue to implement the mandate that the General Assembly has given us."

The Palestinians assert the right under international law to return to homes abandoned in Israel or be compensated. Safadi said funding cuts for UNRWA undermine that right.

"The continuation of UNRWA means continued commitment by the international community to working towards a just solution of the refugees that guarantees the right of return and compensation," Safadi said.

Safadi last week raised the plight of UNRWA with US Secretary of State Mike Pompeo in Washington where officials say he warned of "dangerous consequences" to regional stability if the financial crisis were not resolved.

In an internal email recently published by Foreign Policy magazine, President Donald Trump's son-in law and Mideast advisor Jared Kushner called for a "sincere effort to disrupt UNRWA."

"This (agency) perpetuates a status quo, is corrupt, inefficient and doesn't help peace," he reportedly wrote.

Israel accuses the agency of perpetuating the conflict by helping promote an unrealistic Palestinian demand that refugees have the "right of return" to long-lost homes in what is now Israel.

Prime Minister Benjamin Netanyahu has said UNRWA should be abolished and its responsibilities taken over by the main UN refugee agency.

Israel argues that UNRWA perpetuates the Palestinian refugee problem by grossly inflating the number of bonafide refugees.

Since the agency includes descendants of Palestinian refugees from the War of Independence, it grants refugee status to Palestinians according to a criteria that is not adhered to in any other refugee question.

Some in Israel have even tougher criticism, accusing UNRWA of teaching hatred of Israel in its classrooms and tolerating or assisting Hamas terrorists in Gaza.

In July last year, the agency said it was investigating after finding 20 rockets hidden in one of its vacant schools in the Gaza Strip.