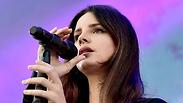 Lana Del Rey
Photo: Getty Images
Lana Del Rey announced Friday that she is cancelling her performance at Israel's Meteor Festival, which was scheduled to take place on September 7.
The singer explained the cancellation by saying she wants to treat all of her fans equally.
"It's important to me to perform in both Palestine and Israel and treat all my fans equally. Unfortunately it hasn't been possible to line up both visits with such short notice and therefore I'm postponing my appearance at the Meteor Festival until a time when I can schedule visits for both my fans, as well as hopefully other countries in the region," Del Rey tweeted.
Over the past month Del Rey responded to criticism and calls to boycott Israel, saying her appearance in Israel does not constitute a political statement or a commitment to the politics in the country.
"I understand many of you are upset that we are going to Tel Aviv for the Meteor Festival (ed—the festival is in fact in Kibbutz Lehavot HaBashan in northern Israel). I understand your concern, I really do," Del Rey wrote in an official statement she published via her Twitter account.
"What I can tell you is I believe music is universal and should be used to bring us together. We signed on to the show with the intention that it would be performed for the kids there and my plan was for it to be done with a loving energy and a thematic emphasis on peace. If you don't agree with it, I get it. I see both sides," she went on to elaborate in her statement.
Del Rey's comments were posted in response to the calls by the Boycott, Divestment and Sanctions (BDS) members to cancel the performance and included a petition entitled "Dear Lena, We Need to Talk about Your Appearance in Israel."
The 33-year-old American pop singer is considered to be one of the genre's most influential figures since 2011 when she released her debut single Video Games.
Her work is greatly influenced by the American pop culture of the 1950s and 1960s. Del Rey describes herself as the 'gangsta Nancy Sinatra.'
In 2014, she was supposed to perform in Israel as part of her third album promotion— Ultraviolence. However, she then also cancelled her arrival amid Operation Protective Edge.
Her current cancellation is a serious blow to the Meteor Festival, and a much more severe blow to producer Eran Arieli and to the production company Narnja.