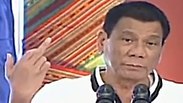 Philippine President Rodrigo Duarte
Philippine President to visit Israel
Philippine President Rodrigo Duterte is set to arrive in Israel on Sunday; Duterte is considered a friend of Israel, and a savage in the West; he sent killing squads to the streets to fight drugs, likened himself to Hitler, and ordered his soldiers to rape women and 'shoot them in the vagina'; Lashing out at Obama, the Pope and God—'God is a stupid son of a bitch'—his comments spark controversy.
Philippine President Rodrigo Duterte will make his first visit to Israel on Sunday to discuss tourism, labor and defense deals, and visit Yad Vashem. Since the Philippine president has a rich record of both domestic and international scandals, officials on both sides will try to play down his record of jarring invective while promoting commercial and military ties.
Israel sees the four-day tour by Duterte and his top ministers as a chance to thank Manila for taking in Jews during the Holocaust and backing the Israeli independence campaign that followed.

The Government Press Office (GPO) has said most of the visit will be closed to the media, an apparent precaution against faux pas by a president whose two-fisted crime-fighting tactics and rhetoric have raised hackles at home and abroad.
At the age of 16 Rodrigo Duterte had stabbed someone to death . "There was a tumultuous fight at the beach," he told the Philippines edition of Esquire.
"We were young men then and we went to this beach and we were drinking and suddenly there was this... maybe I stabbed somebody to death... something like that," Duterte said.
Duterte's advisers have repeatedly told journalists not to believe everything the he says, dismissing his comments as jokes and saying Duterte has a tendency to exaggerate."The president always resorts to hyperbole — he always exaggerates just to put his message across," they said.
But the man who always exaggerates is the president of the Philippines, and according to Western claims he is responsible for one of the most brutal killing spree in the past decade. Even his boastful comments about the murder on the beach seem more appropriate for a gangster than a head of state: "At the age of 16, I already killed someone. A real person, a rumble, a stabbing. I was just 16 years old. It was just over a look. How much more now that I am president?"
Duterte was elected president of the Philippines in 2016, mainly because of his promise to establish law and order in the country and to eliminate drug trafficking.
During his campaign, Duterte promised to put an end to drug trafficking within six months and declared that 100,000 people would be killed during his war against drugs, saying bodies will be "dumped into Manila Bay, and fatten all the fish there.
Within months of being sworn in, thousands of people were shot dead in the Philippines. Their relatives claim that many of them were defenseless people, poor drug addicts or criminals who committed minor offenses. In contrast, local authorities claimed that the dead were suspected of drug trafficking and other serious offenses, and that the police only opened fire in self-defense.
Human rights groups and several governments in the West demanded explanations from Duterte's government, but were strongly rejected.
Duarte makes controversial statements (צילום: רויטרס)
The Philippine president made it clear that he would not change his ways and that the violent operation would continue until his last day in office in 2022.
Petitions against Duterte have been filed to the International Court of Justice in Hague this week.
'The Hitler of the Philippines'
Duterte, 73, known as Rudy, was born on March 28, 1945. In his youth, Duterte was expelled from school for inappropriate behavior and was arrested several times. He later completed degrees in political science and law, and became a prosecutor in the city of Davao on the Philippine island of Mindanao. Duterte eventually became mayor and held this position for more than 22 years.
The world was introduced to the blunt style of the Philippine president in 2016, when Duterte said he would be happy to slaughter three million drug addicts as Adolf Hitler slaughtered six million Jews in the Holocaust.
In that speech, the brash president said without elaborating that he has been "portrayed or pictured to be a cousin of Hitler" by his critics.
Moments later, he said, "Hitler massacred 3 million Jews ... there's 3 million drug addicts. There are. I'd be happy to slaughter them."
His remarks drew shock and outrage across the world, leading the Filipino president to apologize and even pay a special visit to the Beit Yaakov Synagogue in Manila during the Jewish New Year.
"I would like to apologize and it comes from the heart," Duterte told members of the Jewish Association of the Philippines.
Deriding critics who had compared him to Hitler, Duterte acknowledged he erred in referencing what happened to Jewish people under the Nazi leader.
"I mentioned the word Jewish and that was what was terribly wrong and for that I apologize," Duterte said, drawing an applause. "But I'm not one of the racist members of this republic."
He said he had never intended to derogate the memory of the 6 million Jews murdered under Hitler before and during World War II.
Ernesto Abella, an official with the Foreign Ministry in Manila and a former Duterte spokesman, said the controversy around Duterte's Hitler comments had been settled "way back."
While Duterte apologized for that, he has been dogged by accusations from activists that thousands of killings in his ongoing war on drugs were executions, which he rejects, and is rebuked by women's groups for his sexist remarks.
The Philippine president is expected to lay wreath at Open Doors Monument in commemoration of the saving of Jews by the Philippines during the Holocaust. Some Israeli pundits have recoiled at his planned attendance.
In June, Duterte called God stupid and has lashed out repeatedly at the Catholic church, deeming it hypocritical. His visit will include sight-seeing in Jerusalem's walled Old City, which houses major Christian, Jewish and Muslim shrines.
"There's just no knowing what he will say from one moment to the next, so both sides want to keep this (Israel) visit as low-key as possible," one official involved in the planning, and who asked not to be identified by name or nationality, told Reuters.
Singing to Trump
Contrary to growing criticism, for most of his tenure, polls have shown that Duterte's popularity is huge. In January of this year, his support rate stood at 79%. Commentator Ramon Caspila explained at the time that his popularity stems from the fact that he kept his promises, including the fight against drug dealers, the construction of infrastructure, and the fight against corruption.
In recent months there has been some decline in his support rate, partly due to territorial struggles between the Philippines and China, The Philippines's economic problems, and Duterte's statements against God and the Church. However, he is still considered a popular president.
Duterte met with US President Donald Trump last year and sang a duet with a local pop star who sang, among other tunes, "You are the light in my world, a half of this heart is mine. "The Philippine ABS-CBN television channel reported that after the performance, Duterte told leaders he had not planned to perform, but "this was done under the orders of US Supreme Commander Donald Trump."
The United States and the Philippines have been considered allies since World War II , but in recent years relations between the countries have deteriorated as a result of the Philippine President's ties with Russia and China, and the tensions between Duterte and former US President Barak Obama.
Since his inauguration, the Philippine president has stated several times that he wants to break the alliance with Washington. Relations between Manila and the Trump Administration slightly improved after Trump spoke with Duterte in April and praised him for his war on drugs
However, in July, Duterte declared: "There will never be a time that I will go to America during my term, or even thereafter. So what makes that guy think I'll go to America? I've seen America, and it's lousy."
The Philippines is considered relatively friendly country toward Israel, including in UN votes. Duterte was supposed to visit Israel in May 2017, but the visit was canceled due to internal matters in the Philippines.
Officials in Israel hope that Prime Minister Benjamin Netanyahu will manage to persuade Duterte to transfer his country's embassy to Jerusalem, but there is no indication that this attempt will succeed, and one must not forget that the Philippines has many interests in the Arab world.
Duterte will arrive in Israel on Sunday evening for a three-day visit. During his visit to Israel he will sign a series of agreements with Prime Minister Netanyahu and visit Yad Vashem. He will also meet with President Reuven Rivlin, plant a tree in the Grove of Nations and address the members of the Philippine community in Israel.
Among the issues on the agenda: signing long-term care agreements between the two countries, combating drug trafficking, examining the possibility of direct flight routes between the countries, agricultural cooperation and security deals. Duterte will be accompanied by a delegation of Filipino businessmen.