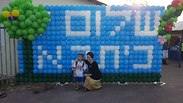 Sign reads 'Hello First Grade'
Photo: Avi Chai
2.3 million kids return to school to begin new year
As summer vacation concludes, 80,000 children are left at home amid opening delays caused by strikes; 167,000 children strap on their bags for the first time to enter first grade while 131,000 embark on their final year; Rivlin tells children 'you can be prime ministers, MKs, ministers.'
2.3 million Israeli children returned to school and kindergartens on Sunday morning after the summer vacation, as approximately 5,000 educational institutions reopened their doors across the country.

While the first day of the school year began as scheduled, more than 80,000 toddlers remained at home after attempts to prevent a strike at daycare centers were unsuccessful.


According to statistics released by the Ministry of Education, around 188,000 children went to compulsory kindergartens, alongside 388,000 who made their way to pre-compulsory kindergartens.

1,048,000 student strapped on their school bags as they went to elementary school, 167,000 of whom were entering their first year.

Around 299,000 students accounted for those entering junior high school, while the number of students entering secondary high school stood at around 477,000. 131,000 of them were embarking on their final year in school.

194,000 teaching staff also concluded their weeks-long summer vacation.

According to the Education Ministry, this year's school year will aim to encourage "Unity in Israeli Society", and will be marked under the banner of "preserving unity, preserving uniqueness."

"I think this is the beginning of the most calm and orderly year in years. There were exciting opening ceremonies all over the country," Education Minister Naftali Bennett wrote on his Facebook page.

"Thanks to the principals and teaching staff who prepared for this day for long summer weeks. Good luck to students!"

"The state education system is home to all Israeli students: Jews, Arabs, Druze, Circassians, religious, secular, ultra-Orthodox. They are all my children. Every child in the State of Israel deserves an excellent education and fair opportunity. The coming school year will be held under the banner of 'unity'", Bennett said in a press statement.

"In the face of recent polarization in society, I felt the remedy for this problem was unity and reconciliation through education. Therefore, I decided that the coming school year will be held under the banner of 'unity'. We must remember that arguments within the family are fine and healthy, as long as we always remain a family."

Prime Minister Benjamin Netanyahu participated on Sunday morning at an annual opening ceremony at the Breuer state religious elementary school in Yad Binyamin.

"I found that the lessons are even more important that the breaks. In the lessons I learned the most important thing. First of all to read and afterwards to write, and then afterwards to learn English," Netanyahu told the young children gazing up at him.

"But the most important thing was to read because if you can read, everything opens up before you. I loved reading very much and more than anything else, I loved reading the bible and history," the prime minister continued.

"This community has absorbed people who were uprooted from Gush Katif," he said in reference to Israel's 2005 evacuation of the Gaza Strip.

"The lives of people who were uprooted from Gush Katif could have been a tragedy, a terrible disaster. It started with terrible pain but the State of Israel and all the citizens of Israel worked together so that the people who were uprooted from Gush Katif would not be refugees in their country. We absorbed them and they resumed their lives, their splendid lives," he said.

"There are memories but there is the present and the future which have already changed, and this gives new life and great hope," Netanyahu added.

President Reuven Rivlin also visited a school in Netivot in southern Israel to mark the beginning of the academic year.

"I want to tell you, boys and girls, you can be prime ministers and, of course, presidents of the country," he said as he addressed the children.

"You can be ministers or Knesset members … The moment I entered school I will never forget the teacher who taught me in first grade," Rivlin said, sharing his own experience as a youngster.

"Opening the school year is perhaps one of the happiest days of the year. It marks a new beginning for so many people: for the parents, or the teachers, and especially for you, the the students who just at this very moment are entering school and are taking another step forward," Rivlin said.

"We know that everything begins with education but we don't always understand the educational mission that our educators carry on their shoulders every day, every hour," he said as he furnished praise on Israel's teaching staff.

"The boys and girls here are the future of the State of Israel. Soon, the young generation that grew up in Netivot will lead the State of Israel."

The opening of schools in the Arab sector was not without its problems in certain communities, mainly due to shortfalls that were not addressed in time for the beginning of the year.

Mayor of Baqa al-Gharbiyye in the Haifa District, Mursi Abu Mokh, however, visited some of the schools in the area, where he met with students and managerial staff members, wishing them a successful new year.

"We, in the city, made every effort to prepare the schools so that the students would have teachers and a great welcome ceremony. Thank God, we began the studies with happiness and without problems," he said.

"We will continue to invest in education in order to make great achievements like always. Together with all the officials, we can lead to the right place. We wish you all success throughout your journey," he Abu Mokh added.

Adir Yanko, Ahiya Raved, Itay Blumenthal, Ittai Shickman, Inbar Tvizer and Raanan Ben Zur contributed to this report.