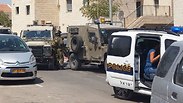 Scene of attempted attack
A Palestinian man was arrested on Sunday morning near Tekoa in the West Bank after he attempted to attack a resident of the settlement with a miniature metal model of a bike.

No one was hurt in what security forces described as an attempted terror attack.

According to eyewitnesses, the attacker, who had been throwing rocks at moving vehicles just moments before, charged at his intended victim while screaming Allahu Akbar.

IDF combat soldiers arrested the Palestinian suspect while other soldiers scoured the area in pursuit of other potential suspects.

The motivation for the attempted attack was being examined by security forces, but initial conclusions pointed to an attempted terror attack.

According to an initial investigation, the Palestinian had been throwing rocks at passing vehicle before fleeing to Tekoa in the Gush Etzion region. He was taken in for questioning after his arrest.

Minister of Tourism Yariv Levin, who was visiting Tekoa to participate in a ceremony marking the reopening of schools at the conclusion of the summer vacation, was forced to remain in the area until the investigation was brought to a close.

Gush Etzion Regional Council Head, Shlomo Ne'eman thanked the security forces for swiftly arresting the suspected terrorist.

"We are in the Tekoa community which experienced an attack of a lone terrorist, it seems. Thankfully, no one was wounded, apart from people suffering from shock, which is also extremely serious," he said.

One Tekoa resident said that the incident should serve as a warning to the Israeli government, which is currently engaged in indirect talks with the Hamas terror group in Gaza about a long-term ceasefire agreement that would see benefits given to the strip.

"The terror attack that ended in a miracle is a warning sign to the Israeli government. Instead of thinking about benefits for Palestinians in Gaza, the time has come to strengthen security in Gush Etzion, both with focused deterrence and with additional means of protecting the settlements," Moshe Saville said.