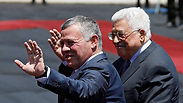 Jordan's King Abdullah with PA President Mahmoud Abbas
Photo: Reuters
Jordan rejects talk of confederation with Palestinians
Spokeswoman for the Hashemite Kingdom dismisses plan allegedly presented to Mahmoud Abbas by US delegation, reiterating Jordan's 'firm and clear' commitment to two-state solution based on 1967 borders; 'confederation … is not open for discussion.'
The Jordanian government rejected on Sunday an American peace plan that was allegedly presented to the Palestinians based on the concept of a Palestinian-Jordanian confederation.

The rejection came shortly after Palestinian Authority (PA) President Mahmoud Abbas said on Sunday in a meeting held with the left-wing Peace Now movement and Israeli Knesset members that a US negotiating delegation headed by President Donald Trump's two special Mideast advisors—Jason Greenblatt and the president's son-in-law Jared Kushner—recommended the idea.

A Jordanian government spokeswoman, Jumana Ghanimat, responded to the report, saying that "a confederation between Jordan and Palestine is not open for discussion. Jordan's positions is firm and clear regarding the Palestinian issue—a two-state solution and the establishment of a Palestinian state on the 1967 borders."

According to Abbas, he told President Trump's delegation that he would agree to such an arrangement on the provision that Israel would also be part of the confederation.

Abbas also claimed that he "consistently meets with the heads of the Shin Bet—we agree on 99 percent of the issues."

During the meeting, which was attended by the Peace Now Chairwoman Shaked Morag and MKs Mossi Raz (Meretz) and Ksenia Svetlova (Zionist Union), Abbas said that Kushner and Greenblatt "asked me if I believe in a federation with Jordan."

"I told him: yes. I want a triangular confederation with Jordan and Israel. I asked if the Israelis would agree to that proposal," Abbas claimed.

The 82-year-old Palestinian leader also shared his belief that the US was a hostile force against the Palestinians and "is closing the peace process. The US wants to destroy UNRWA completely."

Abbas also reiterated and emphasized that the the PA security apparatus "maintain daily security coordination with the Israeli defense establishment" and that its personnel "do everything possible so that no Israeli is harmed."

The Trump administration announced on Friday it would cease to provide any financial aid to the United Nations Relief and Works Agency (UNRWA), which the US and Israel have accused of deliberately bloating the number of bona fide Palestinian refugees.