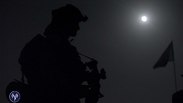 Thirty-five IDF soldiers and civilians were arrested on Sunday on suspicion of involvement in selling and using drugs.
The investigation was led by the Central Unit for Special Investigations Department of the military criminal investigation division (CID), and is also being carried out by the Military Advocate General and the Israel Police.
The majority of the suspects are soldiers from various units, while some of those arrested are also suspected of committing drug offenses on IDF bases.
The suspects are due to be brought before a military court for a hearing on the extension of their detention.
"This activity is only part of a number of steps being taken by the IDF to enforce the prohibition of drugs among its soldiers and to use the full force of the law to hold to account every soldier who is involved in the trading of drugs or bringing drugs into the army," an IDF statement read.
Last month, close to 70 soldiers were arrested in a wave of various operations on suspicion of drug-related offenses. Combat soldiers and career officers were among those nabbed in the busts.
Last Friday, a non-commissioned officer from the IDF Engineering Corps was also detained on suspicion of smoking marijuana on dozens of occasions.