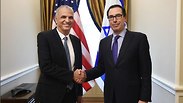 Finance Minister Moshe Kahlon and US Secretary of the Treasury Steven Mnuchin
A joint Palestinian-Israeli industrial and commercial center is set to be built near the Teneh Omarim settlement located in the Mount Hebron Regional Council, in a venture intended to bolster job opportunities for Palestinians and boost the Israeli economy.

The mixed industrial hub will receive government funding and is expected to serve as a model of Israeli-Palestinian economic cooperation that will be presented at a conference of US-led finance ministers in the World Economic Forum in Davos in January.

Finance Minister Moshe Kahlon (Kulanu) met on Wednesday in Washington with the US Secretary of the Treasury Steven Mnuchin, along with President Donald Trump's special Mideast envoy, Jason Greenblatt to flesh out the details of the plan.

The three discussed augmenting economic cooperation between Israel and the Palestinians with American support, a cornerstone of the Trump administration's long-waited peace plan, which has yet to be unveiled.

Palestinians are to significantly benefit from the project, according to its architects, which will offer work opportunities to thousands who are seeking employment.

According to statistics, that figure currently stands at around 9,000 and is expected to climb to 15,000 by 2020.

The Finance Ministry allocated 4 million shekels for planning the project, which will focus on the construction of a modern industrial and hi-tech park, vocational training, and commerce and tourism near the Meitar crossing.

"We are leading economic policy in Samaria which is intended to strengthen the Israeli economy and to contribute to Israel's security," said Finance Minister Kahlon said. "This policy proves itself and we are widening it into a joint industrial area, including south Mount Hebron."

Economy Minister Eli Cohen also praised the merits of the project, saying that it would provide a two-fold benefit.

"Building the industrial area is in the interest of both sides to strengthen ties, and not only in economic terms. Industrial areas in Judea and Samaria contribute to the Israeli economy and to the Palestinian population," he said.