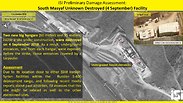 satellite footage of damage after airstrikes in Syria
Photo: ImageSat International ISI
Israeli satellite company ImageSat International published Wednesday satellite footage documenting the widespread damage caused by the airstrikes on the center for scientific research in the Masayaf area in Syria on Tuesday which Syria attributed to Israel.

The Syrian Observatory for Human Rights war monitor said the explosions were heard in the area between Masyaf and Wadi al-Uyoun near Hama city.

According to Syrian hospitals, one person was killed in the attack and eight were wounded.

The Lebanon-based and Hezbollah-affiliated Al Mayadeen news channel also reported the airstrikes, while another report issued later from Syria said that the strikes had been aimed at Iranian targets.

According to opposition officials, the targets included a center for scientific research in the Masayaf area, a storage warehouse for scientific research, and other security-related facilities.

Syrian state news agency SANA said Syrian air defenses confronted and downed several rockets fired by Israeli planes near the city of Hama on Tuesday.

"Air defenses downed a number of rockets fired by the Israeli enemy in the Wadi al-Uyoun area in the Hama countryside," SANA said.

Prime Minister Benjamin Netanyahu said at a government meeting Wednesday that, "Israel is determined to prevent Iran from entrenching itself in Syria. We are working relentlessly in order to prevent Iranian precision-guided arms production on all fronts—near and far—and will continue to work for Israel's security."

In addition, a senior IDF source revealed on Tuesday that over the past year there have been around 200 IAF attacks in Syria.

The strikes targeted mainly advanced weapon systems and infrastructure of the Iranian Revolutionary Guards on Syrian territory.

Some 800 missiles and bombs were launched.