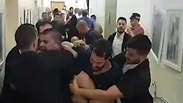 Police officer attacks Ynet's photographer at the Jerusalem Magistrate's Court
Photo: Yishai Porat
A Border Police officer who was arrested last week for allegedly stealing money from Palestinian vehicles attacked a Ynet photographer at the Jerusalem Magistrate's Court on Thursday.

The officer began beating photographer Moshe Mizrahi after seeing that he was recording him on camera.

Soon after, two members of the assailant's family joined the brawl and began assaulting the photographer, smashing wall paintings in the process.


Within seconds, the court's security guards arrived at the scene and after a short struggle handcuffed the violent police officer.

The attack took place in front of the photographer's young son, who arrived with his father to court.

Following the attack, the Police Investigation Unit said that it was opening an investigation.

The attorney of the suspect said in response that his client "claims that a camera was pushed into his face, scratching him in the eye in the process. As a result, a riot ensued, the court guard intervened and took my client aside. I condemn any violence whatsoever, and if there are allegations regarding the attack, they should go through the appropriate channels."

Police officer attacks Ynet's photographer in court (צילום: ישי פורת)

The policeman and his colleague were arrested last Tuesday on suspicion of stealing money and property from vehicles belonging to Palestinian residents whom they arrested.

Last week, the Jerusalem Magistrate's Court extended the suspects' detention by three days.

In her decision, Judge Mika Banki wrote that the defendants' explanations for the theft were unacceptable.

"The gravity of the actions attributed to the defendants cannot be underestimated. The assailant's claim that he committed the theft because of financial distress cannot justify his actions at this point," the judge said.

A senior official from the Israel Border Police said that his force takes the violent incident seriously, adding that steps are already being taken to immediately discharge the suspect from his police service.

The Police Investigation Unit said in response that "Ynet's photographer has filed a complaint and the Department for the Investigation of Police Personnel opened an investigation into the incident. In addition, the police questioned the two officers for allegedly robbing Palestinians' vehicles at a police checkpoint while on duty."