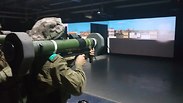 New simulation systems in the Ground Force Command
Photo: Yoav Zitun
The requirement that every infantry soldier undergoes simulation training as part of his basic training and as a condition for being qualified as a combat soldier has turned mandatory this past year.
Advanced simulators have been deployed across the infantry brigades' training bases. Moreover, in the School for Infantry Corps Professions and Squad Commanders (also known as Bislamach) platoon and team drills have already been simulated while training the soldiers to handle fighting conditions such as in Gaza and Lebanon.
The infantry simulator halls are becoming more similar in their technological quality to those of the Israeli Air Force (IAF).
The combat soldiers undergo the simulation training before executing the live-fire training.
New simulation systems in the Ground Force Command (צילום: בראל אפרים, עריכה: דפנה פלד)
The simulation offers vast variety of scenarios, among them stabbing or ramming terror attacks similar to those the West Bank has seen in the past two years, advancement of a platoon in Gaza's streets as part of a big IDF operation against Hamas, underground attacks targeting Hezbollah while maneuvering in southern Lebanon.
The combatants are also trained individually while simulating scenarios with their personal weapon.
Givati and Golani soldiers also train on the simulators inside the armored personnel carriers (APC).
The training before going out to the field is conducted in a small booth similar to the one of the infantry soldier inside a real APC.
The IDF's new systems are attempting to simulate the developing operational reality as much as possible.
The trembling vibration of the simulation weapons identical in their weight and shape to the soldiers' real weapons alongside the simulator's ability to identify the hitting rates enable to produce a fast through debrief for all teams training on the simulators.
"The systems have existed for eight-nine years in the Ground Forces Command. However, today's training simulations demonstrate all possible battle scenarios," according to a senior Ground Forces officer.
"We have recently opened a special simulation instructors' course whose participants had underwent training in Bislamach," he added.
The simulated scenarios have expanded beyond fighting on Israel's fronts and now include a simulation of a terror attack in the Tel Aviv's HaKirya headquarters.