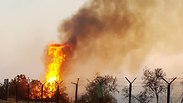 Fire breaks out in Einot Tzukim nature reserve
Photo: KKL Spokesperson
Two east Jerusalem residents and one resident from the village of Azaria were detained Tuesday on suspicion of arson that had allegedly caused overnight Monday a fire to break out near the Dead Sea.

Four firefighting aircraft, 16 firefighting teams, and a police helicopter gained Tuesday morning control over the fire, which consumed some 500 dunams of vegetation in the Einot Tzukim nature reserve.

Fire breaks out in Einot Tzukim nature reserve (צילום: דוברות כב"ה מחוז יו"ש)

Highway 90 was closed to traffic from the Metsoke Dragot Junction to the north and from the Kalya Jnction to the north.

According to the police, at about 2 am a suspicious vehicle was spotted driving along Highway 90.

The police force began following the vehicle and instructed its driver to pull over. However, the driver continued driving.

Law enforcement forces then launched a pursuit at the end of which three suspects were detained on Highway 1, with their clothes and vehicle having a strong smell of gasoline.

In addition, funnels were found in the vehicle.

The suspects were taken for questioning and will be brought before a judge to extend their remand.

Israel Fire and Rescue Services said that the fire spread through the north part of the Einot Tzukim nature reserve.

Firefighting aircraft assisted the ground teams remaining on the scene to prevent the renewal of the fire.

In addition, six firefighting planes of the Elad squadron also participated in the efforts to put out the fire. A situation assessment was conducted to allow the opening of Highway 90 which is the main road leading to the southern city of Eilat.

Einot Tzukim nature reserve was almost completely consumed by a mass fire that broke a decade ago .