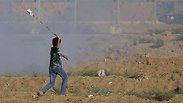 Boy in Gaa throws stone at Israeli troops
Photo: AFP
Palestinian ministry retracts claim Gaza boy was killed by IDF troops
Medical source, who spoke on condition of anonymity, says that an 11-year-old boy, whose death during last week's Gaza protest was attributed to Israeli gunfire, 'died of a head injury'; evidence points to boy being killed by stone thrown during violent riots.
A medical source in the Palestinian Health Ministry backed away on Monday from an assertion that an 11-year-old boy killed at a protest on Friday at the border with Israel had been shot by Israeli soldiers.

"The boy died of a head injury," said the source, who asked not be identified, declining to give specifics and stopping short of attributing the death to Israeli gunfire.

The boy was originally reported to be 14 years old.

On Friday, Ashraf al-Qidra, spokesman for the Health Ministry in Gaza, said the youth, Shadi Abdel-Al, had been shot dead by Israeli troops.

Two other Palestinians were killed during the weekly protest by Israeli live fire, local medics said on Friday.

An Israeli military spokeswoman, asked on Monday about the circumstances of the boy's death and media reports that he had been killed by a stone thrown during the protest, referred Reuters to comments tweeted by the military's Arabic-language spokesman.

The spokesman tweeted that there were "increasing indicators from Gaza that question the credibility" of the Palestinian Health Ministry's original statement about the boy's death.

"According to the indicators and testimonies, the boy was killed as a result of an injury from stones thrown during the violent riots," the spokesman wrote.

Since March 30, Palestinians pressing claims against Israel have mounted stone-throwing protests that have included attempts to breach the Israeli border fence with Gaza, run by the Islamist terror Hamas.

In Friday's violent protests, the IDF said it used force necessary to prevent border breaches by some 13,000 Palestinians who massed at several points near the fence, some of them hurling rocks and fire bombs at troops under cover of smoke from burning tires.

Elior Levy and Yoav Zitun contributed to this report.