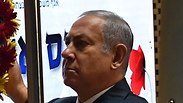 PM Netanyahu
Photo: Kobi Gideon/GPO
Prime Minister Benjamin Netanyahu said at a memorial ceremony for fallen soldiers of the 1973 Yom Kippur War on Thursday that Israel had a responsibility to undertake all efforts to avoid war, but that a but warned it would act "with full force" if it is forced upon it by "those who seek to kill us, first and foremost by Iran."

Iran, the prime minister noted, openly calls for Israel's destruction. "It is our obligation to defend ourselves against this danger and we will continue to do so," he said while delivering his remarks at the memorial ceremony held on Mount Herzl in Jerusalem.

Netanyahu also spoke about a telegram from the Yom Kippur War that was posted on the Israel State Archives website on Monday, which was sent by the former head of the Mossad, Zvi Zamir, warning that war was imminent and suggesting a plan to prevent it.

"You all saw this week the urgent telegram written by Zvi Zamir hours before the war. This made clear in black and white the clear and immediate danger. Even the greatest skeptics should have acted accordingly," Netanyahu asserted.

"The required decision to launch a preventative strike was the harder decision for the whole government because it could never have proven what would have happened if it had not acted. Israel should have delivered a preemptive strike," Netanyahu continued.

The lessons learned from the Yom Kippur War, he said, have been engraved on Israel, which he said will always uncompromisingly safeguard its own security interests and "scour the horizon in order to diagnose the dangers that lie ahead."

"Within the Middle East in our days, saturated with dangers, there are rays of light—our relations with the moderate Arab world. So many countries understand the great value in strengthening relations with Israel and the gradual rapprochement with yield fruit of normalization and peace. This goal guides me and we will continue to guarantee that the quality of our lives will never be broken," Netanyahu added.

President Reuven Rivlin also spoke at the event, saying that the Yom Kippur War was one of the toughest Israel had ever fought.

"Our enemies found a failed military and political elite. Despite the serious blow that we suffered, it was precisely because of it that the victory for Israel was so great," he said.

"The person who won the war was the simple soldier, mandatory conscripts who with their bodies defended this great land," he added, before describing "the failure of the leadership in the Yom Kippur War" and saying that Israel could not forget the lessons of the war.