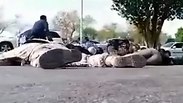 29 killed, over 60 wounded in shooting attack in Iran
Arab Media describes assailants of military parade in the southwest Iranian city of Ahvaz as 'Takifiri gunmen,' term used for ISIS; FM Zarif says 'Iran will respond swiftly and decisively in defense of Iranian lives'; There was no immediate claim of responsibility.
Gunmen attacked a military parade marking 38 years to Iran-Iraq war in the southwest Iranian city of Ahvaz on Saturday, killing 29 people, half of them members of the Revolutionary Guards and wounding over 60, the official state news agency IRNA said.

"There are a number of non-military victims, including women and children who had come to watch the parade," the agency cited an unnamed official source as saying.

According to an initial report in the Hezbollah-affiliated network Al Mayadeen, some 30 people were wounded in the deadly attack, women and children among them.

Gunmen attack military parade in Iran

The report described the assailants as "Takifiri gunmen," a term previously used to describe the Islamic State group (ISIS).

The semi-official Fars news agency, which is close to the elite Revolutionary Guard, said two gunmen on a motorcycle wearing khaki uniforms carried out the attack.

State television showed images of the immediate aftermath. In it, paramedics could be seen helping someone in military fatigues laying on the ground. Other armed security personnel shouted at each other in front of what appeared to be a viewing stand for the parade.

The semi-official ISNA news agency published photographs of the attack's aftermath, with bloodied troops in dress uniforms helping each other walk away. The attack struck on Ahvaz's Quds, or Jerusalem, Boulevard.

Four terrorists carried out the attack and two of them were killed, according to Iranian Students' News Agency (ISNA).

There was no immediate claim of responsibility.

Meanwhile, Guard spokesman Gen. Ramazan Sharif told ISNA that an Arab separatist group carried out the attack, without elaborating.

However, those groups in the past previously have only attacked unguarded oil pipelines at night.

Foreign Minister Mohammad Javad Zarif said Iran would respond "swiftly and decisively," holding agents of a foreign regime responsible.

"Terrorists recruited, trained, armed and paid by a foreign regime have attacked Ahvaz," Zarif tweeted. "Iran will respond swiftly and decisively in defense of Iranian lives."

Iran was holding similar parades in several cities including the capital Tehran and the port of Bandar Abbas on the Gulf.

The semi-official news agency Mehr said further shooting broke out as some of the attackers who managed to escape were being chased.

ISNA said an unnamed spokesman for the Revolutionary Guards blamed Arab nationalists backed by Saudi Arabia for the attack.

Tensions between Iran and Saudi Arabia have surged in recent years, with the two countries supporting opposite sides in wars in Syria and Yemen and rival political parties in Iraq and Lebanon.

Saturday's attack comes after a coordinated June 7, 2017 Islamic State group assault on parliament and the shrine of Ayatollah Ruhollah Khomeini in Tehran. That attack had at that point been the only one by the Sunni extremists inside of Shiite Iran, which has been deeply involved in the wars in Iraq and Syria where the militants once held vast territory.

At least 18 people were killed and more than 50 wounded in the 2017 attack that saw gunmen carrying Kalashnikov assault rifles and explosives storm the parliament complex where a legislative session had been in progress, starting an hours-long siege. Meanwhile, gunmen and suicide bombers also struck outside Khomeini's mausoleum on Tehran's southern outskirts. Khomeini led the 1979 Islamic Revolution that toppled the Western-backed shah to become Iran's first supreme leader until his death in 1989.

Ahvaz is the capital of Iran's oil-rich Khuzestan province. The province in the past has seen Arab separatists attack oil pipelines.

The assault shocked Tehran, which largely has avoided militant attacks in the decades after the tumult surrounding the Islamic Revolution.