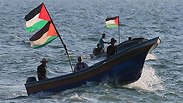 Maritime provocations, Gaza
Photo: AFP
The Coordinator of Government Activities in the Territories (COGAT), Maj. Gen. Kamil Abu Rokon, warned the residents of the Gaza Strip on Friday that if they do not refrain from being dragged into the terrorist activities of Hamas, their fishing zone may be reduced.

Abu Rokon conveyed the message via the "full picture," a video blog that recently launched on his Facebook page, through which he conducts a direct dialogue in Arabic with Gaza residents.

"Peace be upon you, this week I want to present you with the full picture of what is going on along the Gaza coast: Recently, we announced the expansion of the fishing zone for the Gaza Strip from three to nine miles," he said.

"The expansion serves more than 250,000 people who make a living in the fishing industry. Due to the expanded zone, there has been a 50% increase in fishing revenue compared to a similar period before the expansion. The change also led to a sharp increase in the amount of fish in the market, and led to a 50% reduction in price," he stressed.

COGAT chief then warned the residents of Gaza the decision could be reversed if they continue to take part in Hamas-led border violence.

"However, the fishing boom poses a real danger. The Hamas terrorist organization exploits the Gazan fishermen working for their livelihood and forces them to participate in provocations and disturbances in the maritime zone.

"I want to convey a clear and direct message: We will not ignore the maritime provocation, we will act decisively against those who disturb the peace in the sea, and if the situation continues, we will reduce the fishing zone back to three miles," he added in Arabic.

"The full picture is quite clear: the disturbances that Hamas is encouraging in the Gaza maritime zone are likely to severely harm the livelihoods of Gazan fishermen and the welfare of the residents of the Gaza Strip. Rather than lend a hand to this blatant provocation, let us maintain the security stability that allows the development of the Palestinian economy in the Gaza Strip," he emphasized.