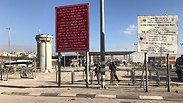 Qalandiya Crossing
Photo: Shlomo Mor
The Jaffa military court extended the detention on Friday of two IDF corporals suspected of stealing money from Palestinians in recent weeks during body searchs at the Qalandiya crossing between Jerusalem and Ramallah.

The two, a combat soldier and a security observer from the Military Police's Border Crossings Unit, are also suspected of committing sexual offenses against Palestinians at the checkpoint.

One of the accused denies the allegations against him and claims that he never molested any of the women he inspected.

According to the IDF's Internal Investigation Unit, testimony provided by the two defendants during their interrogation ties them to the offenses. The president of the Jaffa Military Court, Col. Ihsan Halabi, ordered that the two be remanded.

"The allegations recount theft by a public servant, looting and abuse of power based on racist motives in addition to sexual offenses," noted the judge.

"I have read the covert report of the investigative unit and based on the evidence I have reached the conclusion that there is prima facie evidence at the level required at this stage … There are clear grounds justifying the detention of the suspects," he said.

In the course of the hearing, Military Advocate General Captain Ariella Segal said: "There are serious suspicions that a number of offenses have been committed, and there are additional investigations that must be carried out. The soldiers carried out acts without authority and contrary to correct procedure in strip searching a number of women."

Attorney, Captain Julia Weinschenker, representing one of the suspects on behalf of the military advocacy, said that "this is an excellent and highly valued soldier who serves according to his best abilities in a complex and demanding job. As for the property offense, it was a one-time act that is not characteristic of him. The soldier completely rejects the other suspicions and expects the investigation to end in a way that will negate the charges."

The IDF Spokesperson's Unit stated that "an investigation was opened by the Internal Investigation Unit in the IDF, and the suspected soldiers were arrested and brought before a military court to extend their detention."