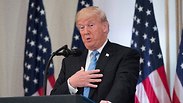 US President Donald Trump told journalists on Wednesday that he liked the idea of a two-state or one-state solution as long as the Palestinians and Israelis could agree, reverting back to the ambiguity surrounding the US peace initiative less than a day after he announced for the first time that he thinks the two-state solution "works best."

"I like a two state solution. That's what I think works best ... That's my feeling," Trump said during a joint press conference held earlier in New York with Prime Minister Benjamin Netanyahu on the sidelines of the annual UN General Assembly meeting.

Trump explained what he meant regarding a two-state solution: "One of the reporters who was screaming asked me about the one state, two-state, and I said I think the two states will happen. I think it's in one way more difficult because it's a real estate deal… But in another way it works better because you have people governing themselves."

Trump expressed optimism for a two-state solution saying that most Israelis want a two-state solution. "I said it and it's a great thing. The bottom line is that if the Israelis and Palestinians want two states I'm okay with that, if they want one state I'm okay with that; I'm the broker."

"I really believe something will happen. They say it's the toughest of all deals," Trump said with at the press conference with Netanyahu.

The president mentioned his son-in-law Jared Kushner, his envoy to the Middle East, saying: "Jared who's so involved, he loves Israel ... but he's also going to be very fair with the Palestinians ... Everybody's got to be happy."

"I was told that it is impossible to achieve peace in the Middle East between the Israelis and the Palestinians," Trump added. I heard it from the Saudi king Salman, who is a great man ... Some 12 world leaders told me that. I understood that peace in the Middle East is a great thing we are trying hard to reach a deal … In my opinion two states is more logical. But I have no problem."
Credit to Iran
The US president also said that he succeeded in preventing a civilian massacre in Idlib, Syria, the last rebel stronghold. Trump went on to explain that he had just learned about the situation in Idlib after a woman in the crowd at a rally brought it up.

"I was at a meeting with lots of supporters and a woman stood up and she said there is a province in Syria with 3 million people right now. The Iranians, Russians and Syrians are surrounding that province and they are going to kill my sister and kill millions of people in order to get rid of 25,000 or 30,000 terrorists.

"I said that's not going to happen. I didn't hear of Idlib province. I came back and picked up the Failing New York Times and opened it up ... not the front page, but there was a very big story and I said wow that's the same story the woman told me and I found hard to believe and I said how, why would anyone do that?

"That doesn't mean they can't be selective, but don't kill millions of people, and it stopped. Nobody is going to give me credit but that's OK because the people know, but I've had more Syrians thank me for that ... This was about four weeks ago I put that out," Trump said.

Regarding the Russian announcement that a de-militarized zone was set up in Idlib Trump said that "I gave credit to Iran, Russia and Syria that they didn't go ahead." He thanked Turkey as well for helping with the situation.

Trump also further attacked the 2015 Iran nuclear deal calling it "stupid." He was confident that Iran would return to the negotiating table "because companies are leaving them left and right. They do not want to be in Iran because they have a choice — either Iran or us."

Palestinian foreign minister Riyad al-Maliki said Trump's broad commitment to a two-state solution was not enough.

"He has to spell it clearly... the two states (based on 67 borders), that East Jerusalem is an occupied territory. These (issues) are very important for us in order us to really move forward," Maliki said in New York after meeting representatives of dozens of countries on the sidelines of the annual gathering of world leaders.

US officials did not attend that meeting.

Asked if he would engage with the United States when it released its peace plan, Maliki said: "Not at all."

"As long as he is sticking to his decisions about Jerusalem, about settlements and about moving the embassy, there is no way," he said.

Trump, asked what Israel might have to give up in return for the embassy's move to Jerusalem, replied: "I took probably the biggest chip off the table. And so obviously we have to make a fair deal, we have to do something. Deals have to be good for both parties ... Israel got the first chip and it's a big one."